Pet Stores Puppies from Puppy Mills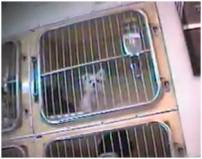 Say NO to Puppy Mills
Most pet stores, (but not all) get their puppies from puppy mills or puppy farms. And just in case you don't know what puppy mills are...
They are commercial dog breeding facilities that operate under poor and substandard conditions regarding the well-being of the animal. i.e. They don't care one bit for any of the dogs in their care. They only keep them to breed over and over again, purely for profit.
The horrific breeding conditions of puppy mills produce unhealthy puppies that are poorly socialized to other dogs and humans. Nonetheless, these dog breeding prisons know the unwittingly consumer won't be able to resist the cute puppy in a pet shop window or website and so, they breed more! Females are bred every heat cycle so more and more money can be made.

PLEASE... Don't buy your new Miniature Schnauzer puppy from a pet store! And if you find this hard to believe, search the internet for "Puppy Mill Photos" and see for yourself.

Search Schnauzers-Rule.com
Custom Search
Now do you want to buy a puppy from a pet store?

Pet supermarkets know once you come inside the shop all they need to do is get you to hold a sweet, cuddly little puppy in your arms. The puppy will undoubtedly shower you with kisses and you will fall in love. At that point, it will be way too difficult for you to hand them the puppy back to be placed once ago into the small wire cage. And so, you buy the puppy!

Hopefully, you go home with the puppy you've always wanted. But if you have problems... then what?

Pet shops are not trained to handle questions on problems that you may experience with your new puppy. At best, they may have some type of guarantee to take back the puppy, within a certain time limit, and that is if the reason meets one of their contract conditions.

But even if they are willing to do so, most than likely you have already bonded with your new puppy and wouldn't want to return her for anything in the world, and the pet stores know that, too.

So, you are left dealing with the problems on your own.

Buying a Puppy from a Pet Store
If you are still considering purchasing a puppy from a retail store, my best advice is to have a list of questions ready to ask them:

Where did they get the puppies?

Did they come from a licensed USDA dealer?

Ask breed specific questions about the Schnauzer, are they knowledgeable?

What do they do with unsold puppies?
If they cannot answer these questions, I strongly suggest you not purchase your new puppy from them. Again, do your homework. DO NOT buy your new puppy on impulse. You may regret it!
Please read the Human Society's article: Pet Shop - Double Talk
5 Reasons NOT to Buy a Pet Shop Puppy

The main reason not to buy a puppy from a pet shop is you will be helping the fight the cause to close down these inhumane dog breeding facilities, like puppy mills. But as long as people keep buying from them, and they make money, they will continue to breed this way. And here are 5 more reasons not to buy from them:
The Cost: Most puppies sold in pet stores actually cost more than buying from a reputable breeder. A Miniature Schnauzer puppy usually costs between $400 to $2500!
You may not get what you pay for: Most store puppies sold do come with AKC papers, but are they real? Some people going home with what they think is a purebred Miniature Schnauzer actually end up finding out their dog has other breeds in its lineage.
Potty Training More Difficult: Because store puppies are left inside of cages until sold, they do not get any potty training. These puppies have to soil in their cages and this makes housebreaking them even more difficult for you when you take the puppy home.

Poor Health: Because most pet shop puppies come from puppy mills with poor breeding conditions and little concern for anything other than profit, health issues are a bigger problem. The well-being of the puppy or having it receive any care at all only begins once the store checks the dog into its inventory. 

Not Properly Socialized: Puppies coming from puppy mills are usually taken away from their litter as early on as 4 weeks. These puppies have not been able to socialize with their siblings at all. They are then placed into small cages where they remain until someone purchases them. Reputable breeders know the importance of socializing a puppy and never let one of their puppies leave the litter prior to 8 to 10 weeks of age.
"Never be afraid to do what's right, especially if the well-being of a person or animal is at stake. Society's punishments are small compared to the wounds we inflict on our soul when we look the other way."
Martin Luther King, Jr.

"Knowledge Share"... If you found this article on pet stores helpful and informative, please share it with your dog-loving friends by clicking on one of the share links (like facebook, twitter, and google +1) located at the top right or bottom of this page.
---

Go from Pet Stores to About the Miniature Schnauzer on Schnauzers Rule
Go from Pet Stores to Miniature Schnauzer Breeders
Related Topics:
★ Miniature Schnauzer Rescue Groups
★ Miniature Schnauzers for Sale
★ Find the Right Dog Breed For You