Why Dogs Bite People

A collection of funny dog photos that explains: why dogs bite people. You may have seen some of the pics from email jokes that have circulated the internet.
Of course, none of these dogs actually bit there owners for dressing them up to look ridiculous. No indeed. As a matter of fact, these pups let their owners dress them up in funny costumes, take pictures of them, laugh at them, and pass their pictures around the internet for others to laugh at, too. Hope you find them humorous.
Dogs in Funny Costumes
| | |
| --- | --- |
| Pretty as a Flower! | |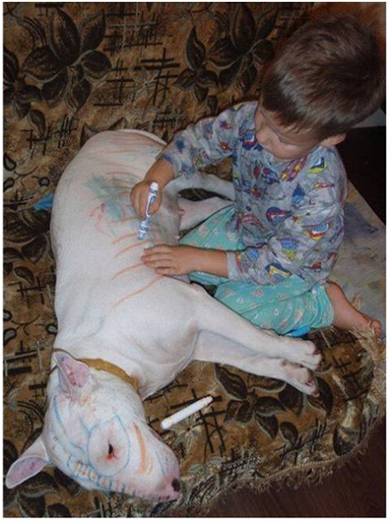 Now that's one patient dog! As a reminder: Be sure to supervise kids and dogs interacting together.
As funny as these photos may be to us, I'm certain most dogs don't like dressing up in costumes. I mean just look at their expressions. But if you want to take photos of your Miniature Schnauzer dressed up in a costume or any apparel, take heed these few precautions:
First and foremost make sure your Schnauzer is comfortable. Never force your dog to dress-up.

Make sure any and all clothing and/or accessories are fitting properly (not too tight or too big) or pose any other hazards.

If you're dressing your Schnauzer to get a picture, have your camera, backdrop and everything else for your photo ready first. Then dress your dog - take the photo - and then remove the

dog costume

off your Schnauzer.
Dog apparel like sweaters or booties (for your Schnauzers protection and seasonal comfort) is one thing and funny get-ups for our own personal enjoyment is another.
Final points: Even if your Schnauzer doesn't mind getting all dressed-up, be sure to never leave him/her dressed-up and alone. A dog could really hurt himself trying to get out of a garment. The clothing could snag on something and strangle the dog or the dog could choke on a loose accessory, or any number of other accidents could occur. So just be sure to be smart about it.
Search Schnauzers-Rule.com
Custom Search
---
Go from Why Dogs Bite People to About the Miniature Schnauzer on Schnauzers Rule
Go from Why Dogs Bite People to Dog Jokes