Dog Exercise Pen
A dog exercise pen is a great way to provide your new Miniature Schnauzer puppy a safe place to play when you cannot supervise him. And if you don't already have a fenced in yard, a pen can provide a safe enclosure for your new puppy to enjoy the outside world without being on a lead. This way your Schnauzer can be included in all the outdoor family activities without you worrying about him roaming around the entire yard freely where he could get hurt.

Types of Dog Pens

Since there are many types of dog pens, first consider what it is you want and need the product to accomplish before purchasing one. Do you just need a portable pen that will contain your dog, or one that can be configured into different room shapes like the North States pet yard, or do you need to create a corral area for your dog, like the Midwest pen and crate combo.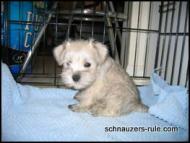 Puppy Crate Training
The Midwest dog pen is a portable dog containment that can be used both indoors and outdoors. It's made of durable black E-Coat finish for long lasting protection from corrosion and rust. It's easy to set up and requires no tools. This dog exercise pen includes ground anchors and folds flat for convenient storage.
Because the Midwest pen is portable it's great to take along when traveling with your pet. But what makes it even better is when you use it in conjunction with the Midwest double door dog crate. This gives your new puppy a free play area as well as helps to crate train your Schnauzer.
Watch the video below and see just how the dog crate and pen work together to provide your puppy both a comfortable den (his crate with a soft cushion) and a confined area to roam about, play, and go potty when needed.
Dog Exercise Pen Buying Tips
When choosing a dog exercise pen keep in mind these buying tips:

Portable: Choose a dog pen that folds away so you can take it along when traveling with your pet and for easy storage.
Easy to Set Up: Choose a portable pen that requires no tools needed to set it up.
Durable: Choose a pen made of high quality, durable materials which are able to withstand regular use.
Easy Clean Up: Choose a dog pen made of materials that are easy to clean. Will you be able to hose or wipe it down without worrying about it rusting?
Weather Resistant: Choose a containment that is made of weather resistant materials, especially if your will be using it outdoors. Consider Height: Choose one tall enough so a full grown Mini Schnauzer cannot jump over it.
Safety: Check the parts closely to ensure there are no loose wires or screws or protruding elements that could injure your dog.
Price: You don't need to buy the most expensive but don't buy the cheapest either. If you are only going to use the pen for a few months of training, there's no reason to buy the most expensive one however, cheaper versions that could easily break or fall apart don't save you money in the long run.

Dog Exercise Pen Best Uses

You will find that owning a dog exercise pen comes in pretty handy and offers lots of great uses in and around your home.
Play Safe Area: For those times when you are unable to supervise your puppy to the fullest (like when doing housework) it's nice to have a safe area where you Schnauzer can play or take a rest. Just toss in a few of your dog's favorite squeaky toys and a dog bed or pillow and go about your household duties.
Whelping Pen: Is your female Schnauzer about to give birth? If so, you'll need a whelping box where she will be able to deliver her puppies and keep them safe.
Out of Harm's Way: An enclosure for your dog comes in handy when you want your Schnauzer to be in the same room with you but still need him out of the way. Like at parties or holiday celebrations or when preparing a feast. You don't need your Schnauzer tripping you up or eating something he shouldn't that dropped on the floor.
Post Care Area: Keep your Schnauzer in a protected recovery area where you can easily observe and care for him until he heals.

Travel: A dog pen is great to have when traveling with your pet, providing your Schnauzer a place to rest and stretch out a bit without exploring areas he shouldn't. It's also wonderful to have when visiting out-of-town relatives that don't have fenced in yards or prefer that your Schnauzer doesn't roam freely around their homes.
Keep Out: Besides confining your dog, certain types like North States pet yard can keep your dog out of an area. You can arrange this type of confinement around your Christmas tree and presents or block off an open entry to a room.
And I'm sure you'll think of even more great uses.
3 Final Tips
Protect Floors: Because most play pens do not have floors you should place them on top of hard surface areas that are easy to clean (like vinyl or tile floors) since potty accidents are bound to happen. If you must place on carpet consider lining the carpeted area first with a water-resistant blanket or washable whelping pad.

Cover Up: If you keep your dog's crate inside the dog exercise pen, drape a blanket or towel over the top of it so it hangs down along the back and sides leaving only the front of the crate open to exit. This will make your Schnauzer's resting spot all the more cozy.

No Collars: It might be a good idea to remove you dog's collar when you leave him for any length of time in your home or inside his exercise pen. Many dogs have choked to death because their collars get hooked onto something and no one is there to set them loose. A dog will squirm like crazy trying to free himself. So either leave the collar off or choose a breakway collar.
---
Go from Dog Exercise Pen to About the Miniature Schnauzer on Schnauzers Rule
Go from Dog Exercise Pen to Puppy Crate Training
Related Topics:
★ Keep Your Schnauzer Fit
★ Training Schnauzer Puppy
★ Miniature Schnauzer Birth
★ Indoor Activities for Dogs
★ Interactive Dog Toys and Games