Canine Distemper

According to the American Veterinary Medical Association, canine distemper is.....
"the greatest single disease threat to the world's dog population."

And although all dogs are at risk, puppies or those dogs with weakened immune systems have the highest risk of acquiring the disease.
This highly contagious and serious disease attacks the respiratory, gastrointestinal and the nervous system of puppies and non-immunized dogs. The virus can also affect other wildlife animals (coyotes, raccoons, wolves, skunks, foxes, etc) and is spread through many ways.
Canine distemper is an airborne virus and spreads via the infected animal through its bodily secretions: saliva, urine, feces, or via releasing the disease back into the air through coughing and sneezing. Since the virus is so contagious, any puppy or dog suspected of having the virus should be quarantined until they can be taken to the vet for proper testing and diagnosis.
Canine Distemper Symptoms  & Treatment

SYMPTOMS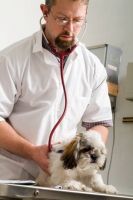 The most common symptoms of the disease are: nasal discharge, eye discharge, coughing, diarrhea, decrease in appetite, fever, and vomiting. Behavioral changes include lethargy, weakness, and depression.
As the disease progresses the virus can attack the nervous system causing twitching of the mouth and legs. In more severe cases seizures and paralysis. And some dogs develop a hardening of their foot pads, hence the nickname "hardpad disease".
Distemper is often fatal so any signs of you puppy or dog being sick warrants a trip to the vet for a proper examination, tests, and diagnosis.
TREATMENT
Treatment for the disease usually involves IV fluids to prevent dehydration, antibiotics to treat or prevent secondary infections, and anti-seizure medication for dogs exhibiting neurological signs.
These treatments however are not cures but rather supportive therapy. Even if a dog does recover from the disease, signs of the damage it caused may continue to be present throughout the dogs life example:  involuntary muscle twitching or paralysis.
The fact of the matter is, there are excellent distemper vaccines which have been developed to control and prevent the spread of this virus. But you have to vaccinate your puppy! So until your puppy has completed the entire series of vaccines needed to protect him, be sure to follow your vet's advice:
Do not take your new puppy to pet shops, parks, doggy daycare, kennels, etc…
Although you might want to show off your new puppy or think it will be fun to take him out and about, you will be putting him at risk. If your puppy is not totally immunized, you will be exposing him to this highly contagious, life-threatening disease. Please wait until your vet gives you the okay and all your puppy shots are completed.
Knowledge Share... If you found this dog health article helpful and informative please share it with your dog-loving friends by clicking on one of the share links at the top right or bottom of this page (like facebook or twitter).
Search Schnauzers-Rule.com
Custom Search
---

Go from Canine Distemper to About the Miniature Schnauzer on Schnauzers Rule
Go from Canine Distemper to Miniature Schnauzer Health
Related Topics:
★ Dog Vaccines
★ Signs of a Sick Dog
★ Canine Parvovirus