Air Conditioning

YIKES! Your air conditioning isn't working and it's getting hot!
If your A/C went on the fritz, you are probably all too well aware of just how quickly your home can heat up. Please remember, your Miniature Schnauzer will not do well with the heat.
13 Tips To Keep Cool
When Your AC IS On The Fritz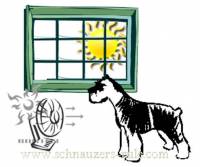 Summer heat can be no fun. In fact, it can kill pets and humans. First, be aware of the temperature. If temperatures rise to scorching levels and you a without air conditioning, please consider a portable air cooler or check into a pet-friendly hotel if necessary.
Things can get much worse (and more expensive)very quickly, if you or your pet suffer a heatstroke and need emergency medical attention.

Here are 13 home cooling tips will help you and your Miniature Schnauzer stay cool until the A/C repair man comes:
Make sure you have lots of fresh cool water available so your Miniature Schnauzer can keep himself hydrated.
When you go in and out of your house, be sure to shut the door behind you right away so no further cool air escapes your home.
Keep your window blinds turned down. This will help keep room temperatures at their coolest.
Keep all floor fans and ceiling fans on constantly. It may not be cold air, but the continuous flow of air circulating your home will help keep pets cooler.
A cool-it-mat will help regulate your Schnauzer's body temperature. If you don't have one, or can't buy one right now, here's a way to substitute for it: Soak a large bath towel in cool water. Ring it out and place down on a tile or vinyl floor. If you prefer, 1st put down a large plastic bag (like a garbage bag) and then put the wet towel on top of it.
If you don't want to prepare a large towel (as mentioned above) for your dog to lay on, use a very damp wash cloth and lightly wipe your Schnauzer's belly, inner thighs, and under armpits to help cool him off.
A quick bath (without soap) - Just wet him down. It's a great quick way to cool your Miniature Schnauzer off when you have no air conditioning.
Don't over exercise or play too much with your dog right now. Allow your dog to just rest and relax. No need over heating your dog further with any type exercise. (Further reading: Heatstroke in Dogs.
Prepare a refreshing and cool dog treat, like our Miniature Schnauzer Pup-sicles.
If you live in a two-story home stay downstairs when your A/C is not working. The lower level of your home will be much cooler than upstairs. Since warm air is less dense than cool air, warm air will rises, leaving your home feeling much cooler downstairs. And if you have a basement, let your dog go down there, as it will be even cooler.Be sure basement is pet safe first. Make sure there are no hazards within your dog's reach including chemicals, loose nails or anything else that could cause your dog harm.

Try not to use heat producing appliances like the stove, oven, dishwasher, clothes dryer, etc... while your AC is on the fritz. You can always make sandwiches, get take out, or use the microwave to prepare meals. Wash dishes by hand and turn off as many lamps, as possible.
In the evening if temperatures dip into the low 70's, that would be a good time to open a few windows and let some cool air inside your home. Just remember to close all windows as soon as the sun rises the next morning.
If you are going to be without air conditioning for an extended period of time, you might want to familiarize yourself with the warning signs of heat stroke in dogs and other Summer Care Dog Tips.
Knowledge Share... If you found this article on How to Keep Pets Cool Without Air Conditioning helpful and informative please share it with your dog-loving friends by clicking on one of the share links at the top right or bottom of this page (like facebook or twitter).
Search Schnauzers-Rule.com
Custom Search
---
Go from Air Conditioning to About the Miniature Schnauzer on Schnauzers Rule
Go from Air Conditioning to Summer Care for Dogs
Related Topics:
★ Summer Safety Tips for Dogs
★ Dog Tick Removal
★ Heat Stroke in Dogs
★ Dog Parks Info & Safety