Dog Food Quiz
Our dog food quiz is a fun way to test your knowledge on what people foods are safe for dogs and which are toxic to give them. It seems that more and more people are leaning towards a more natural diet for their dogs. Especially since the massive pet food recall of 2007.
Yes, there are many of us who are trying to do the right thing by adding foods like fruits and vegetables to our dog's meals or using these foods as replacements for their packaged dog treats. And while this all sounds great, did you know there are many "people foods" while fine for us, can be downright dangerous to your dog... even fatal!
See how much you know about some of the more common people foods that may or may not be safe for dogs by taking our interactive True / False dog test. Answers with explanations are provided. And be sure to share the test with your doggie pals, too!
If you want to brief up on the subject first, visit our Bad Foods for Dogs article.

So how did you do? It's important to be aware of the dangerous foods to dogs, so you don't accidentally make your own dog sick!  Be sure to tell your friends via facebook twitter, etc... and challenge their pet knowledge and see if they can beat your score!

Share this Quiz with Friends
Fruits and Vegetables Safe for Dogs
If you want to add fruits and vegetables as part of your Mini Schnauzers diet here are a few good choices. Just remember to: double check with your veterinarian; some dogs are finicky and may or may not like a particular fruit or vegetable listed; don't over do it. Too much of a good thing can cause problems too (like diarhhea or vomiting).

10 Fruits Safe For Dogs


Apples
Bananas
Blueberries
Cantaloupe
Coconut
Pears
Raspberries
Strawberries
Tomatoes
Watermelon

Tip: Always remove stems, seeds, and leaves first.


10 Veggies Safe for Dog


Broccoli
Cabbage
Carrots
Cauliflower
Green Beans
Pumpkin
Spinach
Squash
Sweet Peas
Zucchini

Tip: Cooking or steaming vegetables first aid digestion.

People Foods for Dogs Tips:
Not all fruits and vegetables are safe to feed dogs.

Always consult with your veterinarian about feeding "people foods" to your Schnauzer.

Sweet Potatoes

are a good source of vitamins including Vitami A, C, B6, D, potassium and magnesium. Plus they are naturally sweet and yummy!

Non-starchy vegetables are lower in in calories and fat.

If your dog is has an occasional bout of constipation lentils, peas, and green beans are all good sources of fiber.

Avoid citrus fruits as the acidity may upset your dog's stomach.
Best Selling Ebook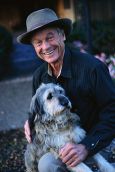 245 Homemade Healthy Dog Recipes
It's so important to know what foods are safe to feed your Miniature Schnauzer. Especially if you prepare your Schnauzer home-cooked meals or like to slip them a piece of your food every now and then. When preparing you dog's meals always read the ingredients posted on the product label. Many foods contain other ingredients that might not be safe for your Schnauzer to ingest.
Also, if you have small children in your home be sure they know not to share their food with your Schnauzer. There are many reports of dogs get very ill because a young child did not know sharing their chocolate bar with the dog would make them sick.

---
Go from Dog Food Quiz to About the Miniature Schnauzer on Schnauzers Rule
Go from Dog Food Quiz to Bad Foods For Dogs
Related Topics:
★ Best Dog Food
★ Tips on preparing your Schnauzers food
★ Dog Recipes
★ Nutrtional Needs of Dogs
★ About Dog Food