Winter Safety Tips for Dogs

We have 10 winter safety tips to help keep your Miniature Schnauzer safe, warm, and healthy during the brutal wintry months.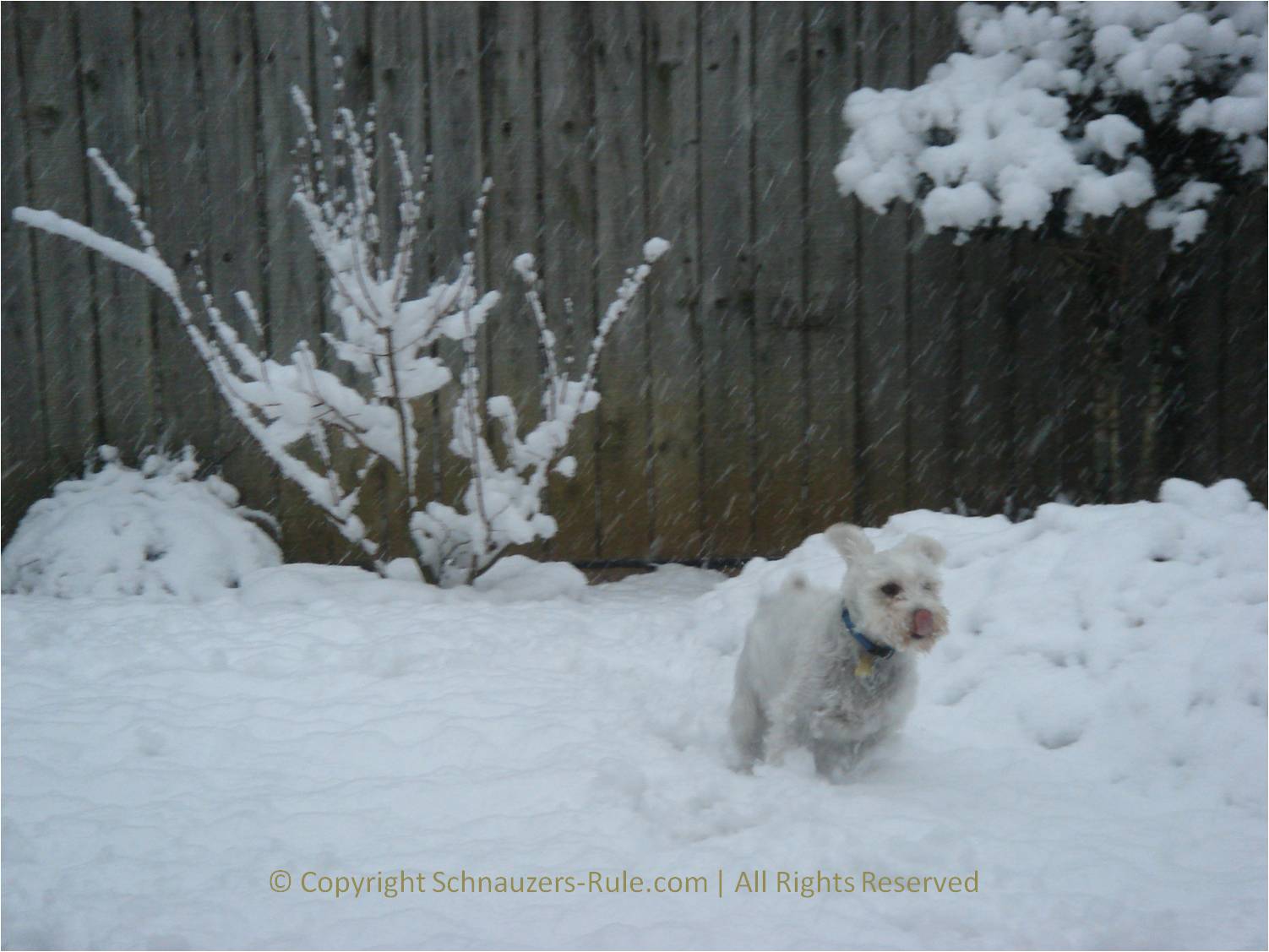 Once the leaves have fallen from the trees and we set our clocks back, winter begins. But with the new season comes new risks and even life-threatening hazards to our pets.
For example, many people believe that a dog's fur will provide them with enough insulation and warmth no matter how low the temperatures go. But that is simply not true. Our Miniature Schnauzers need protection from the cold weather just like we do.
So follow our tips to help ensure a safe winter season for your furry family member.
And please, click here to share with us how you keep your Miniature Schnauzer safe during the cold months ahead.
Top 10 Winter Safety Tips for Dogs
1. Antifreeze is Deadly! Even in small amounts, if ingested, antifreeze will destroy your dog's kidneys. Early signs of antifreeze poisoning include disorientation, followed by coma and death. Antifreeze has a tempting sweet smell that tempts pets to taste it. So be sure to clean up any spills immediately and thoroughly. Keep antifreeze containers locked up! And most importantly, see your vet immediately if you suspect your Miniature Schnauzer of antifreeze poisoning.
2. Protect Paw Pads Chemicals and rock salt placed on icy roads and sidewalks can really do a number on your Schnauzer's pads. Paw pads can become cracked or burned and ingesting any of the chemicals can cause gastrointestinal problems. Therefore, always be sure to rinse off those dog pads with warm water after walks or time spent outside. If you like, use pre-moistened grooming wipes to clean your Schnauzer's paws.

And here are a few more ways to protect those paws:

• Dog Boots: Paw Protectors come in many different styles and can protect your dogs paws year round. The water-resistant dog boots protect paws from snow, ice melt, gravel, sand and hot pavement while also providing traction on smooth indoor surfaces.

• De-Icers: Using eco-friendly and pet-friendly de-icer products (like Safe Paw Ice Melt) for your sidewalks, door steps, and drive is yet another way to help protect those pads. Or you can use sand or cat litter. It won't melt the ice but will offer you and your pet good traction and they're safe for your Schnauzer.
3. Regular Grooming This winter safety tip is often overlooked. It's important to keep your Schnauzer groomed during the winter months as his coat provides him insulation and in order to do its job properly, it needs to remain free of mats and knots. Also, keep your dog's nails clipped and the hair between the pads trimmed for better traction and to prevent snow from clumping in these areas.

Another quick winter safety tip: Rub some vaseline on your dog's paw pads before going outside to prevent the snow from sticking to them and again when he comes back inside to help soothe and relieve them.
4. Winter Gear & Apparel Since the days are shorter during the winter months visibility is reduced by inclement weather, using reflective gear for dogs is a good idea. Reflective gear is especially important for white or light-colored dogs that can easily blend into the background making them nearly impossible to see. You can also have your Schnauzer wear a raincoat, coat, or sweater to help keep him dry and warm.

• bonus winter safety tip: Dogs can lose their scent in snow and ice so be sure to keep your Schnauzer on leash when outside and make sure he's wearing ID tags with your current info, should he become lost.
5. Arthritis and Joint Care Cold Temps can really aggravate arthritis, so if you have a dog with arthritis or one who has a few joint problems consult your veterinarian about the possible medications or natural solutions that may offer relief.
6. Indoor Dogs vs. Outdoor Dogs Depending on whether your dog spends most of his time indoors or out, each environment presents it's own winter challenges.

warning: As a rule, dogs should not be left outside for long extended periods of time. In below freezing temps, your Miniature Schnauzer could freeze to death!
Indoor Dogs have a tendency to gain weight, since they are not getting as much outdoor time and exercise. You should consult your vet on adjusting your indoor dog's caloric needs. When you do let your indoor dogs out, remember that they cannot tolerate the extreme temps for long. Their body temperatures have become accustom to their indoor living, so think about buying a doggy sweater, dog coat or a Snuggie for dogs.

Outdoor dogs are exposed to extreme cold temps and can suffer hypothermia and frostbite winter safety tip: A dog's ears, tails, and paws are highly susceptible to frostbite. Make sure your Miniature Schnauzer has adequate shelter, check his water often (make sure it does not freeze. If necessary, consider purchasing a heated water bowl, and provide him with extra food. note: Outdoor dogs need more food than usual for maintaining body heat and energy.
7. Frozen lakes and ponds A lake or pond that has frozen over can become life threatening for your Miniature Schnauzer. Dogs don't realize where the ice may be too thin. Once they fall in, they are susceptible to hypothermia or drowning.

Dogs are also more prone to leg injuries and ligament tears on the ice. It's best to avoid icy surfaces with your Miniature Schnauzer.
8. Stock Up on Supplies Many a winter outage has caught us all off guard, at one time or another. Be prepared this year by stocking up on extra kibble, dog treats, blankets, medications, and by having a dog first aid kit prepared and well-stocked. Also, have a friend or neighbor on-call who's willing to help out by caring for your pet in case you get stranded away from home, due to the winter weather conditions.
9. Never Leave Your Dog Alone in the Car This winter safety tip is probably one of the most important for several reasons: During the wintry months, your car holds in the cold temps, thus making it like a freezer in which your Miniature Schnauzer could freeze to death. And still yet, left alone in a car, your Miniature Schnauzer becomes more vulnerable to dog thieves, who are always looking for a way to make a quick buck.
And one last tip

10. Snuggle Up Because a dog's normal body temperature is a few degrees higher than our own, the next time you feel a chill, instead of grabbing your blanket... snuggle up with your Miniature Schnauzer. It's a great way to feel warm and loved.

I highly recommend it!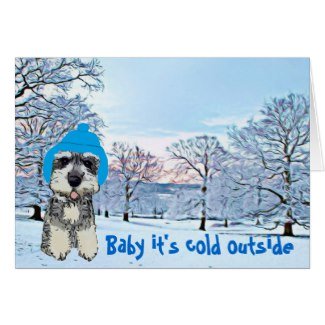 Baby It's Cold Outside Greeting Card by Schnauzers_Rule
(inside card) Why don't we snuggle up instead by the fireside
or Customize this greeting card and send to someone special.
A Feline Winter Safety Tip
Here's an Extra Winter Safety Tip for our Feline Friends: Cats left out in cold temperatures like to tuck up under the hoods of cars or against the inside wheels. Before starting and/or moving your vehicle, please bang on the hood of your car to warn the cat to move.
"Knowledge Share"... If you found these Winter Safety Tips For Dogs helpful and informative, please share it with your dog-loving friends by clicking on one of the share links (like facebook or twitter) at the top right or bottom of this page.
Check Your Local Forecast Before Heading Out!

Brrr... It's cold. If you have window blinds, tilting slats downward will let in more light and create a cozy spot for your Schnauzer to take a snooze.

Got a favorite winter tip? Share it with us.
---
---
Go from Winter Safety Tips to About the Miniature Schnauzer on Schnauzers Rule
Go from Winter Safety Tips to Dog Articles
Related Topics:
★ Holiday Safety for Dogs
★ First Aid for Dogs
★ New Year Resolutions