The Ears Have It! Miss Daisy
by Penny
(Michigan)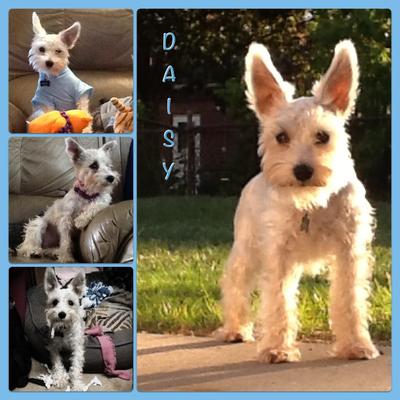 Miss Daisy
I'm a foster failure… kinda. Mom lost her beloved Misty girl (10) in May of last year, but when the same rescue where she got my sister Pepper from told her they were getting 3 dozen dogs from the same puppy mill in June that needed transport. Mom said OK.

Transport turned into fostering three of us schnauzer girls, because all of the other fosters had to bail. That was my lucky day. I was so little and scared. I was the youngest and smallest in the group. The others tried to push me around sometimes, but mom wouldn't let them. She worked so hard to get me out of corners and she asked me every day for a month if I would like to stay. I finally got my voice and said "YES".

She needs someone to protect her, and she lets me sleep on her shoulder in bed. She calls me her "cutie patootie" and lets me snuggle with her anytime. Mom's even turned me & Pepper into comic heroes now with our own facebook page called Momma's Girls. Three more months and I'll have been with Mom and Pepper for a whole year. It's pretty awesome… Momma says so.