Sweet Potato Chips

If your dog loves crunchy treats, he'll go bonkers over our Sweet Potato Chips!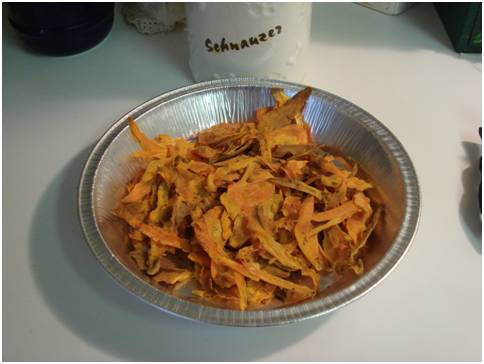 The Benefits:
What food....
helps boost a dog's immune function so he can better fight off infections?

Is a good source of dietary fiber?
Is rich in vitamins and minerals? (Vitamin A, B6, C, D, K, and Iron, Magnesium, and Calcium)

Is an excellent source of beta-carotene, which helps protect cells from damage? (cancer prevention)
Why it's the Sweet Potato, of course!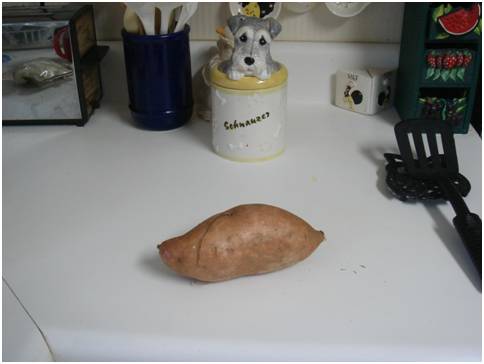 My Miniature Schnauzer loves sweet potatoes. I usually add them to a main dish or use them to make chewy dog treats. Then I thought, what about a crunchy treat? And Viola! I made these chips.
I hope your dog will enjoy these crunchy treats as much as mine does.

---
Sweet Potato Chips Recipe for Dogs

Ingredients:
1 -2 Medium Sweet Potatoes
1 Tablespoon of olive oil or coconut oil (optional)

Cinnamon (optional)
Cooking Directions:
1. Preheat oven to 300 degrees.

2. Spray baking sheet with non-stick cooking spray or line your baking sheet with parchment paper.

3. Wash and peel the skin off the sweet potato(s).

4. Cut the potatoes as thin as you can or if you have a kitchen slicer (mandoline) use that.

I chose to continue using the vegetable peeler to make my slices. It was fast and the slices were super thin.

Now keep in mind, this did not create perfect round shapes, as you can see... but luckily for me, my Schnauzer doesn't care what they look like.

Hey, I'm a dog person, not a chef.
| | |
| --- | --- |
| | I guess if I had really thought about it more when I first started, I could've cut the potato in half and then sliced it width-wise. Oh well..... Anyways the next step is... |
5. Arrange the slices on the baking sheet. I decided to use parchment paper to keep the pieces from sticking and therefore did not need to use the non-stick cooking spray.
The next 2 steps are optional:
6. Lightly brush potato slices with a wee bit of olive oil or coconut oil to help chips crisp in oven.

7. Sprinkle cinnamon on top of potatoes. Again, completely optional but since cinnamon is good for regulating blood sugar and works as an anti-inflammatory, it's a good spice for dogs and tastes great on sweet potatoes!

8. Bake at 300 degrees for 20-25 minutes. Cooking time will vary depending on ovens, how thin you sliced the potato, and whether or not you brushed slices with any oil.
note: I've oven baked regular potatoes to make chips for myself using oil but chose not to use any oil when preparing the chips for my dog. They still came out crisp but a little healthy oil might have made them crispier.
When you see the slices curl a bit, they should be ready. But be careful not to leave them in the oven too long or they will burn. You do not want them to turn brown. You can see I burned a few muself in the picture below.

Cooking tip: If your chips are not crispy enough, lower the temperature to 200 degrees, flip the slices over, and continue cooking for another 10 minutes.

9. When chips are crisp and golden take them out of the oven and let cool for about 10 minutes.
10. ENJOY!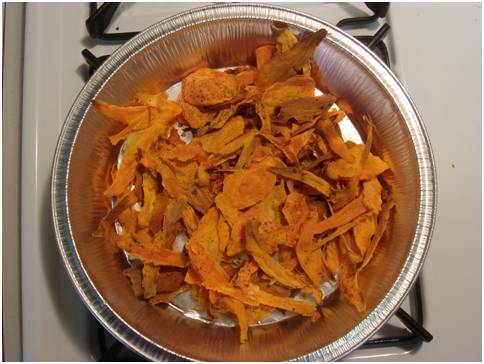 These sweet potato chips turned out so good, I actually got the "stink eye" from my Mini Schnauzer when I started eating some of them. LOL!


I guess I better go bake some more.



A Word of Caution: Do not give your Mini Schnauzer too many treats... including healthy snacks like sweet potatoes. Miniature Schnauzers are considered a high risk breed for developing oxalate stones and sweet potatoes are considered a high oxalate food.
Search Schnauzers-Rule.com
Custom Search
"Knowledge Share"...  If you found our Sweet Potato Chips Recipe for Dogs helpful and informative, please share it with your dog-loving friends by clicking on one of the share links (like facebook, twitter, and google +1) located at the top right or bottom of this page.
---
Go from Sweet Potato Chips to All About the Miniature Schnauzer on Schnauzers Rule

Related Topics:
★ Why You Should Consider Preparing Your Schnauzers Meals
★ Homemade Dog Treats Submitted by Site Visitors
★ Homemade Dog Food Tips