Strokes in Dogs
Strokes in dogs are rare but can happen. Below we examine the causes, diagnosis, and treatments for a dog stroke.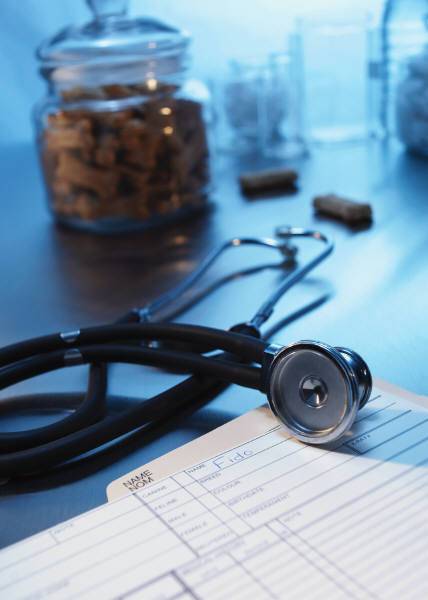 The definition of a stroke is: A sudden loss of brain function caused by a blockage or rupture of a blood vessel to the brain, characterized by loss of muscular control, diminution or loss of sensation or consciousness, dizziness, or other symptoms that vary with the extent and severity of the damage to the brain.
For a dog, the residual effects from a stroke might include: head tilt, uncontrollable circling, difficulty walking, loss of balance, loss of vision, loss of bowel control, and behavioral changes.

Although it is not common to hear of dogs having strokes, they do happen. A dog could suffer a stroke from an injury, poisoning, or perhaps from some other underlying medical condition like heart disease, kidney disease, Cushing's disease, or diabetes, just to name a few. Basically, any interruption of oxygen delivery to a dog's brain could cause him a stroke.
But regardless of the cause, early diagnosis and treatment are essential for a dog's recovery. So the minute you notice any stroke-like symptoms in your dog, take him to your vet or emergency animal clinic immediately.
Diagnosing a Canine Stroke
Your vet may suspect a stroke has occurred from your dog's symptoms but will perform further tests including imaging your dog's brain to make a more definitive diagnosis.
Diagnostic tests, including a CT scan and MRI, will be able to provide the vet the information needed in order to diagnose a stroke has taken place. These tests also provide the veterinarian with the type of stroke the dog has suffered.
There are basically 2 types of strokes a dog might suffer and treatment will depend on the test results.
An ischemic stroke is one in which the blood supply to the brain has been compromised. The brain is now oxygen deprived so the dog suffers a stroke.
A hemorrhagic stroke is a type of stroke which occurs when a blood vessel inside the brain bursts. This type of stroke in dogs causes abnormal bleeding inside the brain.
Treatments for Strokes in Dogs
Treatment for strokes in dogs depends on the type of stroke a dog has suffered. If the stroke occurred because of an underlying medical condition (like diabetes or Cushing's disease) then that condition will need to be addressed. If the stroke was due because of an injury then drugs including anti-inflammatory and anti-seizure medications will probably be in order.
The good news is in many cases, dogs recover completely from having had a stroke in just a couple of weeks. However, in those cases where the dog suffered permanent damage, continual care and supervision is needed. In this case, talk with your vet about the proper supportive care necessary for your dog.
Search Schnauzers-Rule.com
Custom Search
"Knowledge Share"... If you found this article helpful and informative, please share it with your dog-loving friends by clicking on one of the share links (like facebook, twitter, and google +1) located at the top right or bottom of this page.
---
Go from Strokes in Dogs to About the Miniature Schnauzer on Schnauzers Rule
Go from Strokes in Dogs to Miniature Schnauzer Health
Related Topics:
★ Dogs Heat Stroke
★ First Aid for Dogs
★ Vestibular Disease in Dogs