Miniature Schnauzer Head Video
The Miniature Schnauzer head should be rectangular in shape, according to the AKC breed requirements. Dog groomers maintain this look by trimming the head, eyebrows and beard in such a way to enhance this appearance. (See Shaping & Grooming the Miniature Schnauzer Head).
In the video below, you will notice the Mini Schnauzer has a strong, rectangular head which diminishes slightly from ears to eyes. The forehead is not wrinkled and the topskull is flat. The sides of the skull are clean and flat. The muzzle of the Mini Schnauzer is about the same length as the topskull and it ends fairly bluntly.
Miniature Schnauzer AKC Breed Requirements for the Head
Miniature Schnauzer Head Characteristics

Head is strong and rectangular

Parallel headplanes

Beard and eyebrows

Keen expression

Skull is flat and equal length as muzzle

Muzzle ends in a blunt manner

Teeth should meet in a scissor bite

Eyes are small, deep-set, brown and oval in appearance

Ears may be cropped or uncropped

Skin around neck and throat tight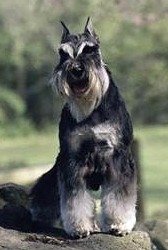 Miniature Schnauzers have small, dark brown, deepset eyes that are oval in appearance and keen in expression.
Their ears, when cropped, should be identical in shape and in balance with their head. The ears should set high on the skull with pointed tips. Uncropped ears are small and V-shaped folding close to the skull.
The foreface runs parallel and is as long as the topskull. The Mini Schnauzer muzzle is strong and ends in a fairly blunt manner, accentuated with thick whiskers. Their teeth meet in a scissors bite (ie. the upper front teeth overlap the lower front teeth).
The Miniature Schnauzer neck should be strong and well-arched. It should blend smoothly into the shoulders. and the skin should fit tightly at the throat.
Miniature Schnauzer Video Series
And this Miniature Schnauzer book is an excellent source of accurate and in-depth information on the breed. It will help you and your family raise a healthy and well-behaved canine companion.
Complete with a free training DVD that includes information on training methods, convenient diet options, grooming instructions, and health care information.

Search Schnauzers-Rule.com
Custom Search
---

Go from Schnauzer Head Video to About the Miniature Schnauzer on Schnauzers Rule
Go from Schnauzer Head Video to Miniature Schnauzer Video
Related Topics:
★ Miniature Schnauzer FAQ
★ AKC Miniature Schnauzer
★ White Miniature Schnauzer