Schnauzer of the Month Photo Contest
September Schnauzer Contest is now Closed.
This Month's winner....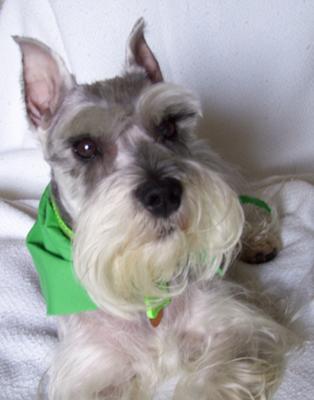 A big thank you to all our contestants for sharing such wonderful photos of your Miniature Schnauzer with us. Judges always have such a difficult task in choosing just one winning photo from so many cuties!
Click here to find out all the details on how you can enter your Miniature Schnauzer in our next Schnauzer of the Month photo contest!

---
Want to See All the Schnauzer Photo Contest Entries
Miniature Schnauzer Clover  this is a solid chocolate girl akc registered other wise known as liver also. aint she beautiful
Miniature Schnauzer Jackson Benson 
This is our new baby schnauzer Jackson! I have always wanted a dog that I could hold and cuddle! He has the best temperament and is a joy to all of us....
Miniature Schnauzer Bella  Bella is my 1.5 year old who has become my partner in crime! Bella loves going on road trips and anything outdoors. Bella loves to dance especially when ...
Miniature Schnauzer Scrappy   Scrappy is a male Miniature Schnauzer. He likes pillow fights and hates balloons
KiKi just recently entered our lives and is already stealing the hearts of everyone. She's a 9 week old Black Miniature Schnauzer who is sure to grow up ...
Miniature Schnauzer Kasie  Kasie is 9 years old. She was given to me when she reached 8 weeks old as a retirement present from a dear friend of mine. She is a dog of many expressions ...
Miniature Schnauzer Crookston  Crookston joined our little family on Wednesday the 15th of September and at just 8 weeks old he's tiny. Almost everyone loves him to bits (one of the ...
Mini Schnauzers Alex and Hayden  Alex and Hayden have so much fun together, especially at the park! They are brothers that were born on October 3, 2009 in Georgia. Pure joy comes along ...
Miniature Schnauzer Johnny  Johnny is a male miniature schnauzer,he was born on May 17, 2008. He hates balls but loves stuffed animals. He loves to play with other dogs,especially ...
Miniature Schnauzer Tyson  Tyson is a 7 months old puppy. He is a super friendly and energetic dog. He loves to play at anytime of the day. His favorite thing to do is go out in ...
I was raised around Schnauzers for 25 years. When I moved to VA, I decided to get a friend. I found a breeder in Texas who sent me the cutest pictures ...
Miniature Schnauzer Sadie  Sadie is a wonderful and loyal family companion who wants to be with us every where we go, even if it's just in another room! She is 5 1/2 years old. We ...
Nash it totally dedicated to his family. Anything his family does, he wants to be included. This is a picture of Nash after having endured a 45 minute ...
Miniature Schnauzer Lilly  My dog was adopted 1 year ago.She is so funny in all the things she does and LOVES playing ball, it's all she wants to do day or night haha.
Miniature Schnauzer Petey  My name is Petey and I'm 4. I don't remember much prior to being adopted from the local Schnauzer rescue group, but I am told that I had a dislocated ...
My recently adopted 2 1/2 year old mini. She is a sweetheart!

Almond's favorite things to do are chewing on her bone, running around the backyard, and ...
Miniature Schnauzer Brutus   I got Brutus from a coworker of mine. He is very rambunctious and loves his mama. He likes to chase things that no one else can see, and loves to bounce ...
Miniature Schnauzer Minnie  Minnie likes to play a lot with the soccer ball. The thing that she always does during the day is sleep. She has about 20 toys to play with. The day she ...
Moby became part of our family in January when his owners brought him back from Korea to our home in New Brunswick Canada.

Moby is a cuddly little boy ...
Miniature Schnauzer Max Elliot  Mr. Max will soon be 4 years old in September. He came to us as a rescue when he was 3 months old--me, my husband and our 4 year old black Miniature Schnauzer,...
Miniature Schnauzer Damien  Damien is 4 years young. He's been with us since he was 3 months. He's a "laid back" boy....likes his walks, loves his rides in the car. Damien loves walking ...
Miniature Schnauzer Molly   Not rated yet
The first picture is our youngest girl Molly. she is bred to show and her first show was evident. she did very well in her first show.
The second pic ...
---

Go from Schnauzer Contest September 2010 to About the Miniature Schnauzer on Schnauzers Rule
Go from Schnauzer Contest September 2010 to Miniature Schnauzer Contests