Miniature Schnauzer Petey
by Mary Kay
(Tulsa, OK USA)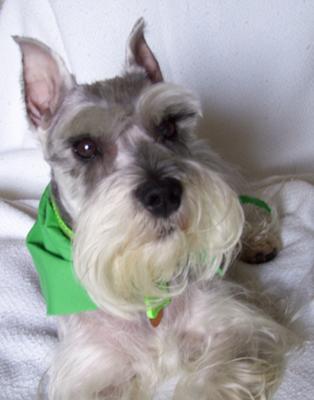 Miniature Schnauzer Petey
My name is Petey and I'm 4. I don't remember much prior to being adopted from the local Schnauzer rescue group, but I am told that I had a dislocated hip and was at an area shelter until the wonderful rescue people took me in and fixed my injury. But that's all in the past and I have a wonderful, loving, forever home now.

I love my squeaky toys, in fact anything that makes noise, and playing fetch is great fun. Hiding under the bed is also a pretty cool game to play. Belly rubs and ear scratches are probably my favorite past time. I enjoy trips in the car, especially to the bank…I always get a biscuit from the teller.

Second chances at life are very special and I take every opportunity to show my gratitude and unconditional love. Arrooo!



Schnauzer of the Month Winner Petey