Schnauzer of the Month Photo Contest
December Schnauzer Contest is now Closed.
This Month's winner....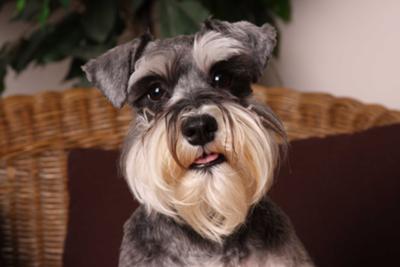 Schnauzer of the Month Winner - DAISY

A big thank you to all our contestants for sharing such wonderful photos of your Miniature Schnauzer with us. Judges always have such a difficult task choosing just one winning photo from so many cuties! So if you don't win this time - enter again next month!
Click here to find out all the details on how you can enter your Miniature Schnauzer in our next Schnauzer of the Month photo contest!



---
Want to See All the Schnauzer Photo Contest Entries
This is Butch. He is very smart and stupid at the same time. He is always looking for attention and is not giving up until he gets it. I love him to pieces:...
Hello my name is Chloe!

I am very lucky, as I have a wonderful master who lets me sleep next to him every night he can. Sometimes he takes a big black ...
Hello My name is Cricket!!

I am two years old. I am told I saved my master's life, when her mom passed away from cancer in 2008. I needed her as a puppy ...
Molly is a sweet little puppy, born Nov 1, 2010.
She loves to hug, and give kisses. She is a typical little girl. Always sitting on the bathroom scales....
Lilly Pad is our spunky girl who joined our family almost two years ago. She loves to run and play in her backyard searching for squirrels and whatever ...
Romeo is super intelligent.
Born 09-05-05
Zena is a 5 months old miniature schnauzer, salt n pepper grey. She lives with me and my husband in Brooklyn, NY. Loves to play and to eat. Eats everything ...
Rocky is almost 2 years old and my daughters best friend. He loves to snuggle with his mommy and run around his yard. His biggest pet peeve is when people ...
We got Bailey for out two daughters for Christmas this year. We found out after we picked her at the pet store that her birthday is the day after my daughters....
Miniature Schnauzer Madame Flossy
More Flossy Pictures....
We are a family of 5 who cannot live without a Dog in our lives. Flossy is our 10 week old little Blessing. We've had her for a month now and she has proved ...
Schnauzers Lilly Belle and Ace
These are my 2 minis Lilly Belle and Ace. Somehow Lilly decided to lie down during our photo session but it made for an adorable picture that I will prob ...
Daisy is 6 years old and she is queen of the house. In fact, we are so proud and happy that she continues to allow us to live with her. :)

Daisy is ...
Otto was born in Knoxville Oct. 3rd, 2008. Otto came to be a part of the family when Dixie Rose, female mini schnauzer, demanded a little brother and playmate....
Miniature Schnauzer Dorie Vogel
Dorie is an all white miniature schnauzer. She is 7 yrs old and very energetic! She has the most amazing personality in a schnauzer that I have ever seen ...
Rocky is the best part of my life. He snuggles me to sleep every evening and kisses me awake every morning. He loves to run around crazily and chase his ...
Evie has been with us for 3 years and is now 6 years old. Before that she was a breeding dog and although taken care of, did not have a cozy, settled home ...
This is our two year old, Black & Silver Mini-Schnauzer named, Ebenezer! He's a riot like most other minis. It's turned chilly here on the Eastern Coast ...
Moose is a two year old miniature schnauzer that loves getting in to trouble with his scottish terrier friend. Moose loves going on walks, meeting other ...
Louie is Mr.. personality. He kind of got a late start in life. Louie was born with a birth defect. Louie has since had surgery and is living a healthy ...
Roxanne is a spunky 9 yo Mini Schnauzer that grabbed my heart the first time I saw her. She was the runt of the litter and just such a tiny doll.. She ...
---

Go from Schnauzer Contest December 2010 to About the Miniature Schnauzer on Schnauzers Rule
Go from Schnauzer Contest December 2010 to Miniature Schnauzer Contests