Miniature Schnauzer Evie
by Richard B.
(Sheffield, South Yorkshire, England)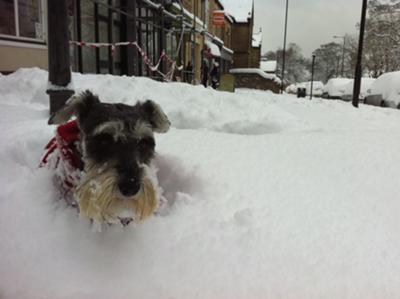 Miniature Schnauzer Evie romping in the snow
Evie has been with us for 3 years and is now 6 years old. Before that she was a breeding dog and although taken care of, did not have a cozy, settled home life.

Since we brought her into our lives however neither us nor her have looked back. She's the greatest companion, best friend and coziest sofa pal you could hope for. We've taught her to be trusting and fun loving and have encouraged her to play after years of never having chance.

Her favourite places are the beach and anywhere snow-covered. She loves the feeling under her feet and just runs and runs having the time of her life. This is when she's not thinking of her tummy and eagerly anticipating the next batch of homemade dog treats which her human Mummy lovingly bakes for her.

The picture attached is during the current big freeze when Evie was so eager to run off into the fresh snow, she found herself covered in the unexpected depths of fresh flakes.

Evie is wonderful and we wouldn't be without her.