Schnauzer of the Month Photo Contest
March 2010 Contest is now Closed.
This Month's winner....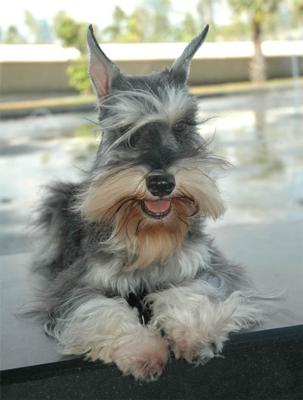 Velvet Birdee
Schnauzer of the Month
A big thank you to all our contestants for sharing such wonderful photos of your Miniature Schnauzer with us. Judges always have such a difficult task in choosing just one winning photo from so many cuties!
Click here to find out all the details on how you can enter your Miniature Schnauzer in our next Schnauzer of the Month photo contest!
---
Check Out All The Schnauzer Photos
Rocky is the funniest dog I have ever met. He is more like a person than a dog. He just turned 1 on March 21,2010. His favorite toys include stuffed animals ...
Scrubs was born on the perfect date for his temperament, April 1st 2008, and he is a joker. He loves rawhide chewies, milkbones of course, and Scrubs absolutely ...
Brody joined our family on St. Patrick's Day of 2007, so we actually just celebrated our 3rd year as a family =) We knew we wanted a mini schnauzer pup,...
My family loves Miniature Schnauzers. My mother started with her Mini Schnauzer, Hobo. I fell in love with him so we got Dixie. My daughter, Kelly fell ...
This is Louis as a pup aged 9 weeks, I think he's the cutest puppy I've ever seen! (not that I'm biased of course.)

From day one Louis was food mad....
Poppy is a black & silver mini schnauzer, she is 10 yrs old, she was born on Armistice day, hence her name. Her favorite place is the sofa or her beanbag ...
Buddy will turn 12 years old tomorrow! Born in March, on a Friday the 13th, he has been everything but bad luck! He was one of 5 puppies born and he ...
We got Miss Lilly belle after the loss of our other mini. She is a precious little girl. She has been 100% houstrained since she was 4 months old. She ...
Noel is a liver colored mini schnauzer. She adores to play and run and loves people. She came to my family because my wife loves the liver colored schnauzers ...
She was an angel sent from Above.. I saw an ad in the paper while looking for a job for my son. When I saw the ad for a Mini White Schnauzer, well, I ...
Minnie, a salt & pepper female, joined our family in 2007 from a breeder in Alabama. She was born on June 21, 2007. The moment she came into our home, she ...
I was browsing a dog for sale website before I went to bed, and saw her pictures. Her name is Scarlet, a female Miniature Schnauzer, who was born on August,...
Hi Everyone,

My name is Buckley. I'm a 5 year-old, miniature schnauzer male. I love people and other dogs. In my free time I enjoy chasing squirrels ...
A dark salt/pepper female Miniature Schnauzer whelped on March 28th 2005. A born-leader in her litter of 4. An Alpha Bitch amongst her pack (my other 2 ...
Miniature Schnauzer Lucky Not rated yet
Lucky is a 4 year old male mini schnauzer. He is so much fun, so loving, and adds such joy to our family. He came in our life in an unexpected way. I was ...
Miniature Schnauzer Daisy Not rated yet

Daisy was a long time coming, I had been looking for a puppy for my family for quite some time and it was always the wrong time or it just wasn't a perfect ...
Miniature Schnauzer Carly Not rated yet
Carly is a female miniature schnauzer who became a part of our family in early November 2009. Her birthday is August 25, 2009. She brings so much joy ...
Not rated yet
Vegas joined our family mid January and now we can't imagine life without him. He's sweet, loving and an extremely smart little guy!
Miniature Schnauzer Poppy Not rated yet
Poppy was born on the same day as me, her dad! July 2nd. Of course a different year. She will be three and I will be 38! Poppy has many names like ...
Miniature Schnauzer Remington Not rated yet
My husband and I are both only children and had a hard time deciding when the "right" time would be to finally take the plunge with a four legged addition ...
Mini Schnauzer Luci Not rated yet


I fell in Love with Luci. It was love at first sight. All the other pups were licking and biting and when I picked up Luci she snuggled on my shoulder ...
Mini Schnauzer Wickkett Not rated yet


Wickkett is the model and quality control officer for his moms pet accessories and he loves doing his job. His favorite thing is his pjs and gets ...
---

Go from Schnauzer Contest March 2010 to About the Miniature Schnauzer on Schnauzers Rule