Girl Dog Names for Mini Schnauzers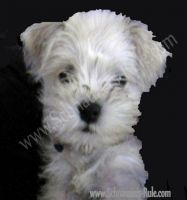 Miniature Schnauzer Puppies
Are you looking for girl dog names that will be perfect for your new female Miniature Schnauzer puppy? Our list below might just include that very special female puppy name or at least get you thinking about the many choices you have.
But before you start combing through the list, here are a few pointers to keep in mind. Since your new puppy's name will be used over and over again, choose one you really like. Think about your puppy's personality and her mannerisms. Is she inquisitive, clumsy, bashful?
Does she have color markings or other distinct features that might lend to a special girl name for her? For instance if your dog is a bit smaller than most for the breed, dog names like Wee Bit, Little Bit (LB), Half Pint, Peanut, and Minnie come to mind.
And as we mentioned with boy dog names, public opinion does come into play. So don't pick a dog name that is evil or vicious sounding. If you do, people may not respond so warmly to your Miniature Schnauzer which in turn could affect your dog and her personality. So put some real thought behind selecting a female name and choose wisely.

There are lots of great girl dog names out there for Miniature Schnauzers including German names which are always popular because of the breed's origin. Celebrity names are also used quite often because many are quite unique (Bette Davis, Garbo, Farrah, Rhiana, Salma, Uma... ). You could also choose a name for your puppy based on your favorite cartoon character (Daria, Winnie, Olive, and of course Minnie!). And if you really want something that is totally unique, just make-up a name and have one that is all your own.
To get you started , browse through our list of girl puppy names from Abby to Zoey.
Good luck in finding that perfect puppy name for your little sweetie. And be sure to share your favorite name for a girl dog below in the comment section!

So........ What name will you choose for your new furbaby?
Dog names fact: Did you know that President Lyndon B. Johnson had 2 Beagles named Him and Her!
Mini Schnauzer Female Dog Names

Abby
Annie
Bella
Bonnie
Callie
Chloe
Daisy
Dori
Ellie
Evie
Fergie
Fannie
Georgia
Ginger
Gracie
Greta
Gretchen
Hallie
Hannah
Heidi
Iris
Izzie
Jackie
Jasmine
Jessica
Kasey
Katie
Kona
Layla
Lexie
Lola
Lucy
Lulu
Macy
Maddie
Maxine
Milly
Mona
Nellie
Olga
Opal
Paris
Penny
Phoebe
Queenie
Rachel
Raven
Rosie
Roxy
Ruby
Sadie
Sasha
Sassy
Scarlett
Shelby
Sophie
Stella
Sydney
Tallie
Tia
Tori
Trixie
Velvet
Weazy
Wilma
Zoey
Click here to print the Female Names for Dogs

Be sure to check out even more of just our German Dog Names for Your Female Miniature Schnauzer
And of course there are many more names out there!
So...
~ Be creative
~ Make-up a name
~ And most of all... Have fun with it!
What is your favorite name for a girl dog?
---
Go from Girl Dog Names to About the Miniature Schnauzer on Schnauzers Rule
Go from Girl Dog Names to Schnauzer Dog Names
Related Topics:
★ Miniature Schnauzer Boy Dog Names
★ German Dog Names