Boy Dog Names for Schnauzers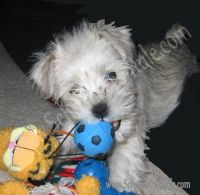 Looking for boy dog names for your new male Miniature Schnauzer puppy? If so, we have some great male names for Schnauzers as well as helpful tips in choosing a dog name to help you out. Choosing the perfect name for you pup is serious stuff, so be sure and put some real thought behind it.....
Because, not just any name will do for your new cutie pie.
When deciding on a name for your dog, keep in mind the one you choose will say a lot about how you view your Miniature Schnauzer and your relationship with your dog. Here's what I mean:
When someone hears you call your Miniature Schnauzer's name out and hear... "Killer, come" they may conjure up a negative or aggressive image of your dog. If on the other hand they hear..... "Teddy, come" they will probably get a totally different feeling and perspective of your dog.
Therefore be selective when choosing a name for your dog so that it fits his personality and the way you want others to respond to him. Keep in mind too, the way someone initially responds to your dog could also have an effect on his personality as well as how he responds to strangers in the future.

Okay, Let's start exploring some boy names for dogs. Where should we start? Hmmm...
Perhaps a German name since the breed originated in Germany?
Or how about after a Celebrity? or your favorite Sports Star?
Or how about making up a name for something totally unique?
Let's see... Does your dog have certain color markings or distinct features? For instance a solid black male Schnauzer could be named: Adrian, Pepper, Shadow, Smokey, or Blake.

And a solid white male Schnauzer could be named: Yuki, Ghost, Fuyu, Casper, Alpine, Eira, Nevada or Moon.
If your Schnauzer has a silly or funny personality, you might want to think about naming him after a Comic like: Sandler, Seinfeld, Ferrell, Wayans, or Murphy or howabout your favorite Cartoon Character: Homer, Mickey, Gumby, Beavis, or Bart.

There are lots of great names out there for your male Miniature Schnauzer but if you need some help getting started, below is a list from Aiden to Zorro for you to browse through.
Good luck in finding that perfect puppy name for your little Schnauzer boy. And please share even more names for boy dogs below in the comment section!

Miniature Schnauzer Boy Dog Names

Aiden
Arthur
Bailey
Bentley
Bogart
Buddy
Chester
Cooper
Dexter
Eddie
Ernie
Finnegan
Frankie
Gavin
Gizmo
Grommet
Gunner
Garley
Harper
Herbie
Herschel
Igor
Ivan
Jackson

Jasper
Jesse
Kenji
Kermit
Kosmo
Lenny
Louie
Lucky
Mason
Mickey
Marshall
Milo
Montgomery
Murphy
Nathan
Nicky
Odin
Oliver
Oreo
Oscar
Paco
Pepper
Presley
Ralphie
Rascal
Ricky
River
Rocket
Rudi
Samson
Scooter
Schatzie
Shadow
Skipper
Smokey
Spencer
Teddy
Theo
Toby
Truman
Tucker
Tyson
Vinnie
Wallace
Walter
Wilson
Winston
Zorro

Click here to print the Male Names for Dogs
Be sure to check out our German Dog Names for Your Male Miniature Schnauzer , too.

There are literally tens of thousands of male names for you to choose from for your new Miniature Schnauzer. So be creative, make up a name if you want, but most of all, have fun with it!


What is your favorite name for a male dog?
---
Go from Boy Dog Names to About the Miniature Schnauzer on Schnauzers Rule
Go from Boy Dog Names to Schnauzer Dog Names
Related Topics:
★ Girl Dog Names
★ German Dog Names