Zoe and Skyler
by Marianne Defoggi
(Bonita Springs, Florida)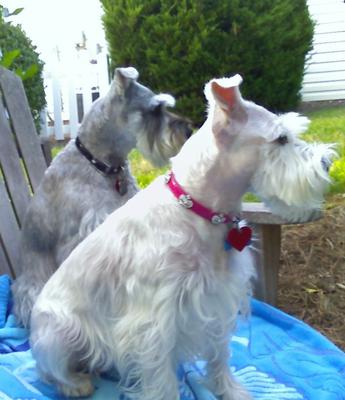 Zoe and Max (when they were both 3)
Well, my first little mini schnauzer rescue was "Zoe" (formerly known as Greta) and she came from a puppy mill. Schnauzer Rescue of the Carolinas (run by Anita McGuire) took her in and she was, I was told, in very bad shape when they got her and almost died. Her foster dad's (whom I met when I picked her up) said that they had to use oven mitts to catch her for the first couple of months as she'd bite to protect herself. Her first 3 years were spent tied to a barrel and forced to have puppies. Her story was so heartbreaking I knew I just had to adopt her. I had to beg for them to allow me to bring her home with me as she was so traumatized the rescue was afraid she'd never be to a point where she'd make a good pet. She and I bonded immediately and she became such a loving little soul....even after she'd been abused so badly at the hands of humans in her first 3 years. Unfortunately I was only given 6 and a half years with Zoe as she was diagnosed, at the age of 9, with inoperable cancer and she passed away on September 21st of 2016. When I lost her I thought my heart would literally break in two. However, I'm just happy that I was able to give her the loving home she deserved for her last years.

My second rescue, who is still with me, is "Skyler" (formerly known as Rocket) and I adopted her at the age of 6 from Mini Schnauzer Rescue of Houston. I saw her on their website, put in the adoption application and was told someone had already adopted her. Then about a week later, the rescue contacted me and said she was available so I booked a flight (from Florida to Houston) and picked her up at the airport. Fortunately for me, someone had taken her home and then decided they no longer wanted her. She is a very sweet and loving family member and I adore her. I'm not sure where her first 6 years were spent but I'm glad she'll be spending the rest of her life with me.

I am currently looking to adopt a little male mini schnauzer as I lost 2 of my other mini schnauzers (one who I got from a friend in North Carolina at the age of 9 named "Lilly") and my little boy "Max" who I had gotten from a breeder back in 2006. BEFORE I knew to "adopt and not shop". I had Max from the time he was 6 weeks old until he passed away of congestive heart failure at almost 13. He was a spoiled and loved little boy. I have been totally in love with every one of my mini schnauzers and I thank all of the volunteers who rescue these sweet souls so that they can know what it's like to be loved.
Join in and write your own page! It's easy to do. How? Simply click here to return to Miniature Schnauzer Rescue Stories.