Teach Your Dog to Walk Nicely on a Loose Leash
Every dog owner wants their dog to walk nicely on a loose leash. After all, it's the way your dog behaves on the leash that determines how enjoyable your walk will be, right? If your Miniature Schnauzer is constantly pulling on the leash, this article will give you the steps to correct the behavior and some helpful dog walking tips to make leash training easier.
It's important to understand that your Schnauzer is not pulling you along because he knows it drives you mad. No…. The reason he keeps doing it is because your dog finds a certain sight, sound, and/or smell very interesting and wants to go check it out. The problem is… the person at the other end of the leash… ahem you, move to slow. It's really that simple.

So how can you stop this unwanted behavior? Through training of course. You see, once you understand WHY your dog behaves a certain way and HOW he learns you can teach your Schnauzer anything. Let's break it down:
 
Okay, so we now know the WHY: the dog is pulling because he is trying to get somewhere. Now what about the HOW? How does your dog learn?

Dogs learn through experience and their behavior is shaped by its consequences or the outcome.

Let's examine what this means when it comes to your dog's pulling behavior on the leash. You and your dog are at Point A and your dog wants to go to Point B. He begins pulling forward and you reluctantly get dragged along. Lesson learned by dog – Pull hard to get to where I want to go.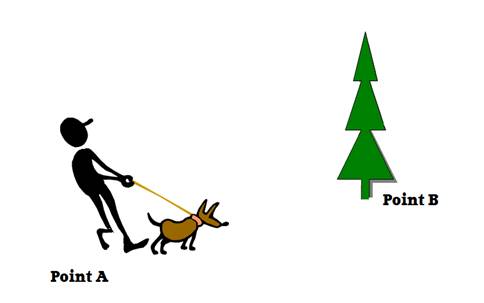 So how do you stop the behavior? It's simple really. Just don't let your Schnauzer have what he wants. When your dog pulls ahead stop dead in your tracks. Don't move even one inch forward. Instead redirect your Schnauzer back to your side and only begin moving forward again, once the leash is loose. Your Schnauzer will soon realize that in order to get what he wants: to go from Point A to Point B... the leash must have slack or be relaxed.

We combined 2 dog behavior training techniques here: Extinction and Positive Reinforcement.
Extinction occured when the previous behavior (the pulling) was no longer effective. (ie tdog pulls and gets no where closer to Point B).
Positive Reinforcemnt occured when the new behavior (loose leash) was followed by moving forward. (ie the dog releases tension on the lead and was able to move closer to Point B).
Walk Nicely Loose Leash Training
Setting your dog up for success: Choose a place where there is the least amount of possible distractions to train your Schnauzer the proper way to behave on leash. Like in a large room, your driveway, or perhaps in your back or front yard. Just don't try and start loose leash training on an actual walk. That would present too many temptations for your dog and even distractions for you. Since you both need to be paying attention to each other, choose a quiet, unexciting place to train your dog at first. This will set him up to succeed.
Next you want to use a regular 6 ft training leash as opposed to a Flexi style retractable leash. A retractable leash is not the preferred leash to use especially during training as it allows a dog too much leeway and is harder for the handler to control. Since you will be multi-tasking, giving out treats, praising, changing directions and so forth, a regular leash is best.
Attach the leash to your dog's collar or harness whichever you prefer. Despite what you may have been told about a harness, it does not encourage pulling. It may make it easier for a dog to pull since there is no pressure being applied to the dog's neck but that's it. So either will work.

note: The most important thing during training sessions is your dog's safety. If you are not sure what type pf collar you should be using, please ask your veterinarian. Depending on your Schnauzer's health, weight, size, and age, your vet may prefer for you to use a particular type of collar.

In the end it is not the leash or collar that stops the pulling... it's the training that stops it.

The Loose Leash Training:

Walk Your Dog.
Stop moving as soon as tension is on the leash.
Resume walking when leash loosens.
Now those 3 things seem pretty simple but since your dog has probably been pulling for some time now, you'll have to put some time into reshaping his behavior.
Okay, so start walking and as soon as the leash tightens... STOP. Once you stop you want to coax or encourage your Schnauzer to come back to you so that the walk can resume. There are many different ways to achieve this. You can call the dog back, snap your fingers to get his attention, tap on your leg, choose a command "Ease Up" or make some other noise to get his attention.
When your dog turns his head to see what the problem is, continue to encourage him to come back to your side. Tap your leg again or take a few steps backwards if need be. When your Schnauzer returns to your side praise and treat your dog and then say "Let's Go" and start walking again. More than likely, you will only take a step or two before the leash tightens again so you have to keep repeating the steps.
After you go back and forth a few times you can start changing directions to make following you a bit more interesting and challenging to your dog. Start making turns every now and then. Go to the right for 4 steps and then turn left or go totally in the opposite direction. Just be sure to always add a command before changing direction so your dog knows what to expect like "This Way". Your dog will realize he needs to follow you to go anywhere. Every time he turns with you give him a treat and a praise. It really doesn't take that long to teach your dog to walk nicely on a loose leash.... at least in your own back yard! :)
The Actual Walk
Okay so it's time for the actual walk and lots of distractions. Can YOU do it? Notice I asked, can YOU do it. The biggest mistake dog owners make when training their dogs to walk nicely on a loose leash is they don't follow through on the actual walk.
When their dog begins to pull they fall right back into their old habits and either either pull back (which only encourages a dog to pull harder) or they may say, NO Don't Pull, or they do nothing except get completely frustrated... and continue moving forward with their dog. This is not doing what they are suppose to be doing and so they end right back up at square one, with a dog that pulls. 
In order to be successful with loose leash training, you must always stop when tension is felt on the leash. It's the only way your dog will realize that pulling will not get him any further along.
So always follow through and be consistent with your dog training. Soon, you will have a Miniature Schnauzer that is a joy to take for walks.

Helpful Tips to Teach Your Dog to Walk Nicely 
Remain calm and relaxed when training your dog.

Be sure to follow through with the loose leash training techniques during actual dog walks. Training is not just for the backyard. You must be consistent in teaching your Schnauzer what behavior is appropriate.
Practice the Follow Me technique throughout the walk (even when your dog is not pulling). ie. Turn and walk in different directions to encourage your dog to pay attention to you. Tap your leg and add the verbal cue "Let's Go" or "This Way" each time you change direction. The goal is to have your Schnauzer pay attention to your whereabouts and follow you.

Walking nicely does not mean you want your

dog to heel

it just means you don't want him to pull on the leash during walks. Allow your dog to move ahead of you a bit so he can check things out and have a sniff about. It's okay.

Never yank or tug the leash back towards you as your dog will instinctively pull away.

Talk to your dog throughout your walks and praise your Schnauzer for walking nicely.

Anticipate your dog's behavior. If you see that your Schnauzer is almost at the point of tension, give him an opportuntiy to pay attention to you. Give the verbal cue for him to "ease Up" or pause or give the verbal cue "This Way" and change your direction. Just remember to never change direction without first giving your dog the verbal cue or warning and the opportunity to follow you.

Before heading out for an actual walk don't get your dog all riled up about it. Does this sound familiar: "Wanna go for a Walk? Let's for for a walk!" You can't get your dog all excited about going for a walk and then expect your Schnauzer to casually walk out the front door.

Start the walk off right. Most dogs are going to pull the minute they walk out the door.

Tell your Schnauzer to WAIT

. Take your time. Lock the door behind you and only say "Let's Go" when you are ready to proceed.

Remember every time you have your dog on leash, you are training and shaping his behaviors. So be consistent.
Understanding how your dog learns and why he behaves the way he does, will enable you to teach your Miniature Schnauzer anything. Now let's go for a walk! 

---
Go from Walking Nicely on a Loose Leash to Schnauzers Rule home page.
Go from walking Nicely on a Loose Leash to Dog Behavior Training.