Tilly, Our Little Tinker
by Jill Pearce
(Wiltshire, UK)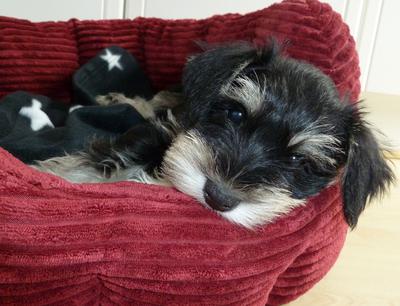 This is Tilly, our one year old girl who we welcomed into our home and lives at the age of 8 weeks. From the start we knew she had a little heart murmur and we wondered how this would affect her, but we needn't have worried. She has a wonderful, gentle nature and draws in everyone she meets with her fun and cheeky nature.

Playing football with Dad is her favourite sport and she's very good at it but our challenge is ongoing in trying to find a ball that lasts more than a few weeks. Other favourite sports include chasing pigeons, digging and dismantling the neighbours garden fence.

Training has been a breeze from housetraining to ringing a bell when she wants to go outside but I think she's trained us more. Dislikes include water (rain, sea or bathtime!), getting up early and horses. Loves are many and include a snuggle under the duvet, belly rubs, a salmon fillet and cucumber.

I hope to, later this year, enroll her as a Therapy dog, she loves people and so many people have said she would be perfect for the job and it's only fair we share the joy. All in all a more wonderful dog we could not have found and we hope you agree.