Tia a Puppy Mill rescue has Finally Found Love and a Forever Family
by EvaMaria Breslin
(MEDFORD NY )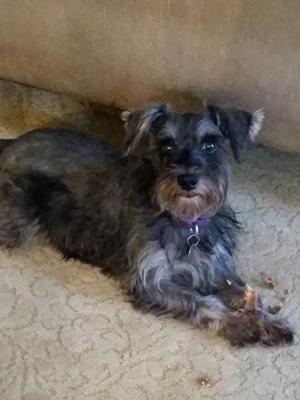 Today my mini schnauzer Lola and I went to ARF an awesome rescue in Wainscott and adopted the sweetest 4 year old mini schnauzer. She was a puppy mill dog that was going to be killed because her litters were getting smaller. She had 4 litters a year starting at 6 mos. Averaging 6 puppies a litter, 24 puppies a year, 96 puppies in 4 years selling for 1500 dollars to 2500 in a puppy mill store.

My new family member (yet to be named) brought in $144,000 to $240,000 in the 4 terrible years locked in a filthy cage neglected and abused every day. Barely fed and never petted or held. She did not know the touch of a human until the day she was saved from a life of hell.

Today was the first time she was in a real home, and the first time she saw a rug or television. My two schnauzers Lola and Gretchen sensed her fear and stayed by her side. Dogs have more kindness and love in their hearts than humans do. I was so proud of my Lola today riding with me to rescue her new sister.

Please do not buy a dog from a pet store. The lives of the parents are torture filled with pain and fear. There are so many great purebred and mixed dogs and cats at shelters.

My new baby has never had a toy, a Christmas or birthday celebration. She will now, and everyday will be a celebration of her new life.

Update: Tia's new name is Kelsey and the other pups her sisters Grtchen and Lola! What a cute family. Aroo!