The Tail That Went A Wagging
by Elise Spoor
(Bossier City, LA)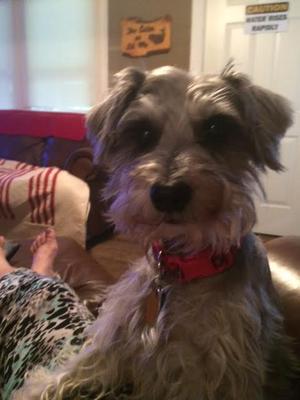 It was getting more and more difficult. My 14 year old ShiTzu, Nick, was aging and I found myself consumed with intense grief. I had picked him out and held him in the palm of my hand when he was only a few days old. But as a senior dog he has lost his hearing, and some of his sight. He struggles to walk comfortably. It kept drawing me into depression watching him decline.

After reading an article I decided to try to help ease the heartache I was feeling with a rescue dog from the pound. Plus, a younger dog would be a good idea for my black lab, Rufus. Rufus and Nick got along well even with their size difference. But, even Rufus seemed affected by Nick's aging. He wasn't as active.

A few trips to the pound and I had found 3 dogs that would be good candidates for our family. The next step was to bring Rufus to see how well they would get along. So, off we went. Unfortunately, one by one Rufus showed very little interest in them. Nothing mean or aggressive, just a lack of genuine interest.

We were leaving and I was very disappointed. As we walked through the last part of the area we came upon the last cage where my eyes fell upon a beautiful silvery angel of a dog. I had seen this breed before and knew it was a Schnauzer. He was shaking and trembling very heavily and I instantly knew we had to try once more to see if he would be a match for our family

The pound worker got him out and said they had just brought him out for adoption. He had been picked up 3 days before running down a busy street. No one had called to claim him. He looked purebred. He also looked scared to death.

It didn't take long and Rufus was wagging his tail almost off as he introduced himself and sniffed his new little friend. Seeing this and knowing this companionship could not be denied, our silver angel came home with us that day. His name came out of the blue immediately, Captain Morgan. I don't know why. That was just his name. As if it was revealed to me.

It has been 9 months with the Captain and he has greatly amused us with his Schnauzer personality. He gets along well with Nick and has been a great help to me to not dwell on Nick's aging. He protects his people, his toys and his property. He has wonderful manners and is very sensitive. However, we have also found out how he probably ended up at the pound.

When Rufus goes outside in the front yard, Morgan sometimes happens to sneak on by. He gets so excited that he can't hear the calls for him to come back. He gets very close to the street. He has started dog obedience class to help teach him to listen. We love the joy he has brought to our family, our sweet mini silver Schnauzer, Captain Morgan. We cannot imagine our lives without him.