Tears for a Terrier- Grayce AnneMarie's story
by Tammi Sligh
(San Antonio)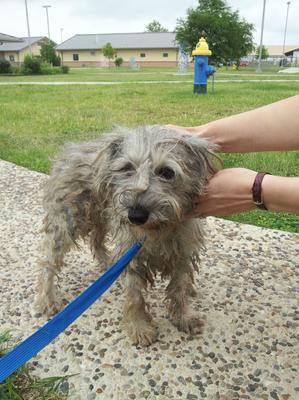 Grayci when we met
Since childhood, I have always wanted what I called "a mustache dog". I did not grow up with pets in the house because I am allergic to dander and dog hair. I thought I would never be able to own a dog. My husband, on the other hand, loves dogs and has always had one growing up. He really missed having a dog. My daughter had begged for one her whole life too and she is now 15 years old. So, we discussed getting a poodle. It was the only breed I knew that didn't shed. We found one available at the local city shelter. I set out on Memorial Day to see this dog.

Upon arrival, I learned the shelter was not open that day but one kennel was open that was run by the San Antonio Pet's Alive program. They rescue soon to be euthanized dogs. I told the lady I was looking for a pet that would not shed since I am so allergic to them. She said she had a girl (about two years old) that had just come in but she was very ratty and tattered looking. She told me the dog was really shy and scared. My daughter and I decided to meet her. The lady brought her out on a leash, which she was hating... I cried the minute I saw her. She had large wads of matted hair and was very shy. She was so dirty and full of fleas. The poor thing! I could not go another minute without helping this dog. She had my heart right then and there. I had to arrange with the shelter to pick her up that afternoon so I could have her groomed before they spayed her. They gave her the shots, including Rabies, so I could have her groomed but we would have to return for the spaying on Sunday. If I had left her there to be spayed the following day, we would not be able to have her groomed until two weeks had past so she could heal.

We took her to a groomer who cut her hair really short. She is soooo adorable with her new haircut and bath. Her hair is silky smooth and shiny silver. She is the most beautiful dog I have ever seen. We applied Frontline and now the fleas are all gone, save one or two( it hasnt even been 24 hours yet). We decided to name her Grayce AnneMarie, but we will call her Grayci.

When she arrived home, she was timid. She would not take the milkbone snack we offered her. She would not walk on the leash, we had to carry her inside. I let her out back and she immediately went to the bathroom at the furthermost edge of the fence. We tried playing ball with her but she just watched it roll by. I left to run errands for her and buy more things she would need. My daughter took her back outside and she began to warm up and starting chasing her around the yard. When I got home, Grayci had found a favorite spot on the middle cushion of the couch. She greeted me warmly. She followed us both around if we got up to do anything and then she would return to her spot on the couch. She would not eat her food yet. I let her out again before bed and she did her business. I was told to put her in a kennel for night time. I tried but she wouldn't go in it. I finally PUT her in it. She just stood there. I felt so bad after about 5 minutes, I had to let her back out. I decided to chance it and pray she would not use the bathroom in the house. She was shy but finally followed us up the stairs, but only when we couldn't see her. She appeared in my room and my daughter put her up on my bed. I laid down and she snuggled by my hip. I turned out the lights and she got up and walked around the bed, finding a better spot on my husbands side! lol. He works out of town, so he was not there. I awoke this morning and she was still in that spot. We took her out and she used the bathroom. I walked her on the leash. Once I coaxed her outside, she enjoyed the walk. She explored a lot but was pretty easy going. We met a dog and she barked but it quickly passed.

Once we returned home, she played in the backyard a few more minutes and then I had to shower. She came upstairs again, on her own and sat by the door, guarding me. I gave her a treat and left for work. My son said she was very playful today and so far no accidents in the house. She is alone now, until my daughter gets home but we are hoping she is not scared and lonely in the house. And, I hope she eats. She seems to be acclimating well. She is loved and I hope she can sense it. She seems very happy and loving.

There is just no telling what her story was before we got her yesterday. She has been trained, you can tell and she had had a family before but I don't know how she came to be in a shelter like the one she was in. She rescued us instead of us rescuing her, I think. We are thrilled to have her. She is a childhood dream come true for me and I hope I am also her dream come true after her terrible ordeal.