Spooky the Schnauzer
by Kimberly Sorenson
(Phoenix az)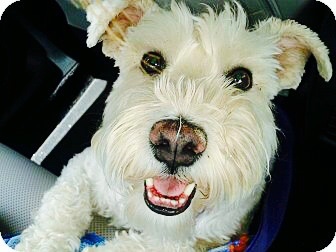 The picture that captured my heart!
Spooky the Schnauzer rescues two broken-hearted people.

Finley, our 11 yr old Mini Schnauzer was diagnosed with congestive heart failure. We were treating him aggressively with medication but the vet gave him a month to no more than a year. We had to attend a funeral of a friend so we all jumped in the car and began our trek from Phoenix Az all the way to Spokane Wa. Unfortunately, on the way home, Finley took a turn for the worst. We had to find a 24hr vet ER in Missoula Montana where we made the pain-staking decision to put him down. I can't even begin to express how awful it was to have to leave our baby in Montana and finish the rest of the trip without him.

Experiencing gut wrenching grief, I started looking at rescues sites, not seriously but to occupy the hours we had left on the road until we were home. Scrolling through, I saw the sweetest little face, Max (now Spooky) a 4 year old Mini Schnauzer. I could not ignore him. My husband wanted to take a break from having a dog but I secretly sent the rescue an email. Upon returning home, Robin from Coppercloud Ranch Rescue (Scottsdale Az) called me. I set up a time to go see Spooky. I didn't tell my husband until the very last minute for fear of him talking me out of it. Yes, ok, a little manipulative but hey, sometimes necessary (ha). We fell in love immediately and took Spooky home a week later.

His story...

He was owner surrendered to the pound and put in a kennel with a bunch of other dogs. He shut down and stopped eating. He was then put on the E-list. Robin rescued him and found him a home however, the couple broke up and he was returned to Robin less than a month later.

Spooky is thriving with us. He is the sweetest, most affectionate pup and we are all so incredibly happy and blessed. He was meant for us and I have to pinch myself sometimes when I look at him because we couldn't have found a more perfect dog. I'm finding I don't cry as much although I miss Finley terribly. Spook has truly done all the rescuing here.