Schnauzer of the Month Photo Contest
April Schnauzer Contest is now Closed.
This Month's winner....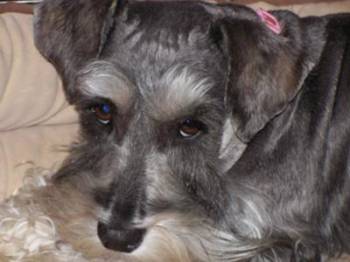 Lucy-Belle
Schnauzer of the Month
A big thank you to all our contestants for sharing such wonderful photos of your Miniature Schnauzer with us. Judges always have such a difficult task in choosing just one winning photo from so many cuties!
Find out all the details on how you can enter your Miniature Schnauzer in our next Schnauzer of the Month photo contest!

---
Check Out All the Photo Entries
While deployed to Iraq my son would call me and ask when were we going to get a miniature schnauzer puppy. When I returned from Iraq to Louisiana my wife ...
We adopted Roy from a breeder when he was 10 weeks old. He loves snuggling on the couch, playing with his toys, showing people how fast he can run, going ...
Ebenezer came to our home as a rescue. He's a male mini-schnauzer, 22 months old. He was given to a family with two boys and a single mom. After a week,...
Lucy-Belle is a 1 year old salt and pepper mini. She is "little sister" to our three sons who adore her. She loves to cuddle, and is a Daddy's girl. She ...
He was the best dog ever...... I got him from a family here en Guayaquil-Ecuador, he was the smallest one of all, and slept with me all the time he loved ...
Sophie-Marie is a very smart female miniature schnauzer and has a wonderful personality! I adopted her in October of 09 and she is almost 11 months old!...
Mia was taken in by the Oklahoma Save A Dog rescue organization twice. She was adopted once but the family was expecting a baby and could not keep her....
Bella came to us in October 2002 barely 6 weeks old. She is the light and the love of my life, my baby and I cannot imagine life without her. This picture ...
THIS IS MY CUTE GIRL TEASHA. SHE LOVES TO BE DRESSED UP FOR THE HOLIDAYS. SHE IS 11 MONTHS OLD SHE LOVES TO RUN IN YARD PLAY FRIZBE WE LIVE IN WISCONSIN....
Schultz & Lilly are just two of our five Schnauzers. Schultz started this love for schnauzers and we are just head over heels for this breed, we added ...
Abby came into our lives 10 yrs. ago. I knew she was the dog for me right from the get-go. She was so smart, loyal, and full of life. Before she was ...
Miniature Schnauzer Velvet Birdee
Velvet's a dark salt & pepper Miniature Schnauzer bitch whelped on 28th March 2005. She's a born-leader in a litter of 4 & we chose 1 another. She's also ...
Miniature Schnauzer Bella  Bella is 4 years old. She was a Christmas gift for my oldest daughter Chelsea who is now 8. She loves to play and jump around the house. Her favorite toy ...
---

Go from Schnauzer Contest April 2010 to About the Miniature Schnauzer on Schnauzers Rule