Mini Schnauzer Christmas Gifts
Why not give a few Schnauzer Christmas gifts this year? Are you having a bit of trouble trying to decide what to give a special someone this holiday season? Is that someone a Schnauzer lover? Well, as a Miniature Schnauzer owner, I can tell you with complete confidence that any Schnauzer lover on your list will be thrilled to receive a breed specific gift. And the good news... there are lots of different choices and price points to fit any budget.

To help you find the perfect present, check out these special and unique Xmas gifts that any proud Mini Schnauzer owner would love to receive this holiday season. And remember to buy a little something for their Schnauzer, too! ;)
Schnauzer Lovers Holiday Gifts
Miniature Schnauzer Caricature Portrait Here is a fabulous gift and a treasured piece of art! Get a photo of your Miniature Schnauzer and have a wonderful, whimsical Miniature Schnauzer Caricature Portrait made!

These pet caricatures are VERY affordable and will be a timeless keepsake! These Schnauzer caricatures make wonderful, thoughtful, and personalized Schnauzer Christmas Gifts!

Schnauzer Jewelry Who doesn't love getting a piece of jewelry for a gift...

From Schnauzer charms, bracelets, earrings, pendants, and even cuff links for the Schnauzer dad of the family, you 'll be sure to find a perfect piece of bling for someone you care about.

Schnauzer Ornaments What a great way to liven up someone's Christmas tree and be remembered year after year, for giving such a meaningful gift. Find an array of Schnauzer ornaments perfect for the holiday season like: Schnauzer in a stocking, Schnauzer Gingerbread house, Holiday Teacup ornament, Schnauzer toy soldier, and more.

Mini Schnauzer Gifts You will find lots of one-of-a-kind Miniature Schnauzer items created by Schnauzers Rule, in our Zazzle shop... including Schnauzer ornaments, Schnauzer Christmas cards, Schnauzer t-shirts, mugs, magnets, and so much more, including our very popular Schnauzer calendar! Check them out!

Great books and calendars always make great gifts, too. Take for instance the book Following Atticus by Tom Ryan. It's an unforgettable true saga of adventure, friendship, and the unlikeliest of family, as one remarkable animal opens the eyes and heart of a tough-as-nails newspaperman to the world's beauty and its possibilities. If you love animal stories, you'll love this book.
Miniature Schnauzer Calendar


Schnauzer photos submitted by our website visitors. A great Holiday Gift! Just change the calendar year. Aroo!
AND for the very young dog lovers of your household...

A Dog in a Tree


A short rhyming tale of a little dog who tries to outsmart a bird and squirrel only to find himself stuck in a tree. Written for young children who like rhyming stories and Miniature Schnauzer lovers.

Kindle ebook.
---
And don't forget a special something for the Mini Schnauzer!

Treats! No doubt about it, dog treats are the best present ever, according to most Mini Schnauzers. And Zuke's Mini Naturals are one of our favorites. These dog treats are ideal for snacks during dog training sessions or anytime. Healthy moist miniature bites that are free from preservatives, wheat, corn, added animal fat, artificial colors or flavors. Aroo!
Holiday Miniature Schnauzer Gifts

Holiday Dog Apparel - A festive dog sweater is both super cute and the perfect piece of clothing to keep your Miniature Schnauzer warm on those cold wintry walks. Lots more holiday dog wear to choose from including bandanas, scarves, vests, collar bows, booties, and Santa suit.

Treats! No doubt about it, dog treats are the best present ever, according to most Mini Schnauzers. And Zuke's Mini Naturals are a favorite choice. These dog treats are ideal for snacks during dog training sessions or anytime. Healthy moist miniature bites that are free from preservatives, wheat, corn, added animal fat, artificial colors or flavors. Aroo!

Comfy Dog Bed - A comfy bed to help protect your dog from cold floors and summertime heat while providing a soft spot for snoozing. Two inch thick foam forms the base with fashionable suede outside and cozy fleece lining. Low profile front allows easy access for small or older dogs. Base cover zips off for easy machine wash care.

Holiday Dog Toys Every Miniature Schnauzer hopes to find a new plush dog toy under the tree this year. Check out a fun assortment of dog toys from talking balls, plush loofahs and squeaking dog toys and more, all in holiday theme.
Your Holiday Schnauzer Photos & Stories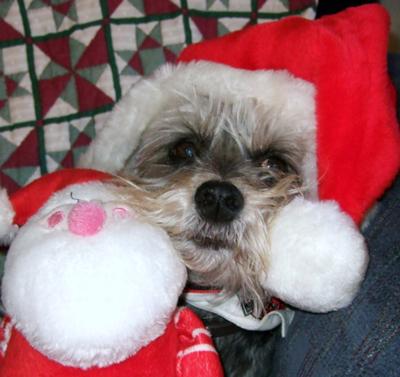 Here on Schnauzers-Rule.com, we never tire of your Miniature Schnauzer photos and stories. And our site visitors love reading them, too. So, if you have a holiday photo of your Miniature Schnauzer, please share it with us.
Just look at
Schnauzer Gumby
. Isn't he adorable, all dressed up and waiting for Santa Paws.
Share Your Schnauzer Holiday Photos

And just in case you want to hear it from a Miniature Schnauzer, what they really want for Christmas check out: A Schnauzer 12 Days of Christmas


The Night Before Dog-mas
By Claudine Gandolfi

Twas the night before Dog-mas when all through the pound
Not a puppy was yelping or playing around;
Our leashes were hung, by our kennels with care,
In hopes that St. Bernard would soon find us there;

Chihuahuas were curled up, all snug in their beds,
While visions of doggie treats danced in their heads;
Max in his collar, on somebody's lap,
Had tucked in his tail for a midwinter's nap,

When outside the room there arose such a clatter,
My ears perked right up to hear what was the matter.
Away to the window I jumped up with glee,
And barked at the shadows that were cast by a tree.

The glow from the moon changed night into day,
And started me thinking,"woof woof time to play!"
When, what with my puppy-dog eyes did I see,
But a splendid dog sled, led by doggies like me.

With a regal furred driver commanding, not stern.
I yelped to the others,"That must be St. Bern!"
More rapid than greyhounds our saviors they came,
And we barked and we howled, and called them by name:

"There's Duchess! There's King! Fat Chance, and bare Buffy!
On Fido! On Scooter! On Rover and Scruffy!
Go by the red fire hydrant and run pass those trees!
Nothing can stop you, not even some fleas!"

As puppies at play chase after a stick,
And race to their masters so lively and quick,
So out in the field his canines all flew,
Catching the frisbees, that St. Bernard threw.

And then in an instant I heard at the door,
Scratching and clawing of each little paw.
As I pulled in my nose, and was turning around,
Through the door St. Bernard came in with a bound.

He was dressed all in fur, from his head to his tail
His wood cask adorned with an icing of hail;
A bag of chew toys he had brought in with him,
And his mouth was turned up into what looked like grin.

His eyes how they twinkled! His ears flopped, how merry!
His coat shone like crystal, his nose like a cherry!
His big floppy mouth was drawn up like a bow,
And the fur on his chin was as white as the snow;

The stump of a bone was held tight in his teeth,
And his collar encircled his neck like a wreath.
He had a large face and a furry, round belly
That bounced when he barked, like a bowl full of jelly.

He was fluffy and plump, a big cuddly, old pooch
And I laughed when I saw him and gave him a smooch.
A wink of his eye and a wag of his tail;
We knew right away, we'd have homes without fail.

He howled not a howl,but went straight to his deed,
And took down our leashes, that soon we would need.
He opened the door,and families stood there,
With children, all smiling and much love to spare.

He lept to his sled, to his team gave a call
And away they all flew as if chasing a ball.
But I heard him exclaim as he chewed on a bone;
"Happy Dog-mas To All And To All A Good Home!"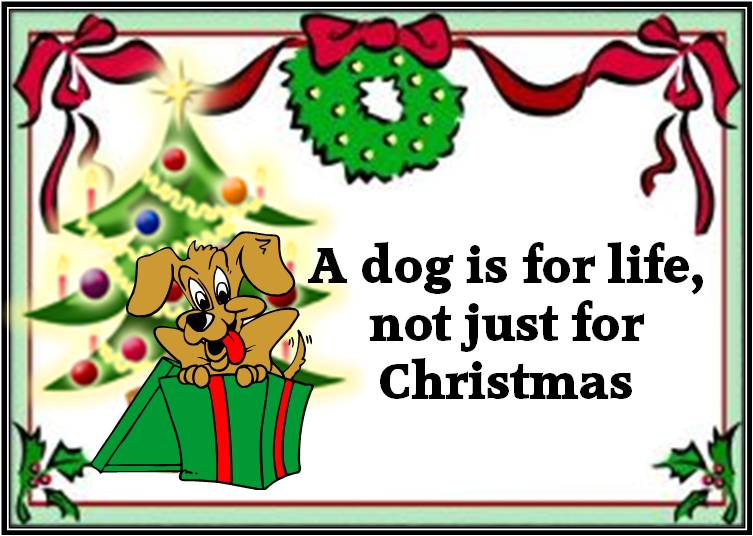 ---

Go from Schnauzer Christmas Gifts to About the Miniature Schnauzer on Schnauzers Rule
Go from Schnauzer Christmas Gifts to Gifts for Miniature Schnauzer Lovers
Related Topics:
★ Miniature Schnauzer Christmas Photos
★ 12 Days of Christmas for Schnauzers
★ Pet Costumes