RedMoon Custom Dog Food

RedMoon Custom Dog Food: High Quality Dog Food Prepared Just For Your Miniature Schnauzer.

How would you like to design your own all natural dog food online and have it delivered right to your door… with free shipping, no less? RedMoon Custom Dog Food does just that.
RedMoon Pet Food is an online pet food manufacturing and delivery service that allows you, the customer decide what should be added to your pet's food. So you're not just buying dog food online... you're creating it. And in the end, you'll have a customized bag of dog food that's tailored for your Mini Schnauzer's specific nutritional needs... with his name on it!

Using only the finest ingredients, RedMoon custom dog food formulas have been developed and tested by a Natural Pet Nutritionist along with a team of PhDs in Animal Science. Their base formula is grain free, gluten free, wheat free, corn free, rice free, and soy free. And each base recipe is slow cooked in small batches to preserve essential nutrients pets need to thrive.

And talk about fresh... Since your food is custom-made, it's not prepared until you order it. So you no longer have to worry about bringing home a bag of dog food with an expiration date that's already past due. And RedMoon is so sure that both you and your dog will love their products, they proudly back their superior pet food with a 110% satisfaction guarantee.
Create Your Schnauzer's Dog Food
How it Works:

It's super easy to create your own unique dog food in 5 easy steps.


Go to RedMoon and click on the top left link Create Pet Food. Then select Dog Food (I'm assuming you're creating a food for your Miniature Schnauzer).
Choose a base formula and select your dog's energy level.
Choose a bag size and kibble size.
Choose the supplements you want to add to enhance your dog's food. (Get 2 supplements with each order free!)
Name your pet's food and complete your online order.
Supplements Available:
Antioxidant Immune Booster - a blend of nutraceuticals, metabolic enzymes, vitamins, herbs and fatty acids
Joint Reviver - a blend of nutraceuticals, Vitamins and oils
Oral Health Support - a blend of nutraceuticals, essential trace elements and herbs
High Gloss Skin and Coat - a blend of nutraceuticals and oils
Green Grass Defender - a synergistic combination of B-Complex vitamins and amino acids
Digest-Aid - a blend of probiotics and enzymes
And in case you need a little help, just click on the "Get A Recommendation" tab, and answer a few questions about your Schnauzer (age, weight, sex, whether your dog's been spayed or neutered, etc). Then you'll provide information about your dog's activity level along with any allergies or other health concerns facing your Schnauzer. When you're finished, the analysis will suggest a base recipe with supplements you should add. Simple!

Hey, what about treats? Since the quality of your dog's treats are equally important to his health, be sure to check out RedMoon Pet Treats. They are all natural protein treats, with NO grain, NO gluten, NO corn, NO wheat, and NO soy. Just fresh beef liver and beef tripe and great taste! So be sure to add a bag to your order!
RedMoon Dog Food Giveaway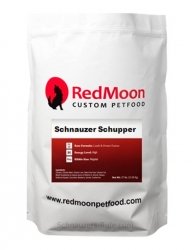 Create Your Own Dog Food
How would you like to customize a bag of dog food using all natural and fresh ingredients, just for your Miniature Schnauzer... for FREE?

Thanks to the our friends at RedMoon Pet Food, one lucky winner will win a
2.5 lb bag of any dog food plus their choice of 2 supplements... for FREE!

How to Enter: Just post a comment below, like: I want to create a bag of dog food for my Mini Schnauzer.

A winner will be chosen at random on Monday June 18, 2012 from all those who posted a comment by midnight Sunday June 17, 2012. So post a comment, tell us what you think, and Good Luck! Aroo!
note: If you do not have a facebook account you may still enter the contest. Just fill in the CONTACT FORM with the following information: Write RedMoon Giveaway and provide us with your name, mailing address, phone number, and email address.
And the winner is.... Jerri Williamson
---
Go from RedMoon Custom Dog Food to About the Miniature Schnauzer on Schnauzers Rule
Go from RedMoon Custom Dog Food Giveaway to Miniature Schnauzer Contests
Related Topics:
★ Dog Product Reviews
★ Submit a Request for Your Dog Product