Mothers Day Dog Gift Ideas
Mothers Day Dog Gifts, Poems, & Ecards for Schnauzer Moms
Mother's Day is celebrated annually on the second Sunday in May. So this year that is Sunday May 11, 2014. And I know the Miniature Schnauzer of your house will want to give Mom a special gift, too. Moms will appreciate the thought of including her furbaby in the celebrations, whether you buy her a gift from your Mini Schnauzer or send her a dog ecard to let her know just how special she is to the family.
To all the dog moms that feed us, love us and care for us... Happy Mother's Day.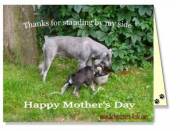 Send Mom a Schnauzer ecard
A Mothers Day Dog Lovers Poem

For fondly telling stories of my antics as a pup, And for knowing yummy dog treats are the way to cheer me up...

For cleaning all the mud when I forget to wipe my paws, And for taking time to scratch my ears and cuddle "just because,"

For comforting my worries when we're driving to the vet,
And for giving me the words of praise that others may forget,

For showing me you love me in so many different ways —
I'm wishing you the happiest and best of Mother's Days!
Read even more Dog Poems for Mom below.
Gifts for Dog Moms
If you are having a hard time deciding on what to get mom this year, why not get her something about her favorite dog breed, the Miniature Schnauzer. Here are just a few unique Mothers Day dog gifts that would be perfect for a Miniature Schnauzer Mom who adores her furbaby.
Unique Dog Gifts for Mom


Schnauzer License Plate

Schnauzer Charm

Dog Mom Bracelet

Schnauzer Crossover Bag

Schnauzer Plaque

Schnauzer Lovers Sculpture
See even more Dog Lovers Gifts from the Bradford Exchange Dog Lover's Collection on AMAZON including bracelets, earrings, jewelry boxes, figurines, collector's plates, and more!
And for those Moms that love their gardens, how about an adorable Miniature Schnauzer Garden Flag.
The garden flags measure 12" x 18" and have a double-sided image. They are made of 100% polyester, fade and weather resistant and have a pole sleeve ready to be hung onto your  garden stand.

The colorful and whimsical Schnauzer art makes them the perfect decorative addition for Schnauzer gardens.

See assortment of Mini Schnauzer Garden Flags
More Schnauzer MOM Gifts

And we have a couple designs of our own, too. Check out all our Schnauzer Gifts that can be customized by you, like our Kiss the Cook Schnauzer Apron or how about our Schnauzer Lover T Shirt. Either one would make a perfect Mothers Day dog gift. Click on the photo below to see even more gifts for Mom.

Mother's Day Dog Poems
Here are a few more dog poems that dog Moms are sure to enjoy.......
Before I was a Dog Mom

Before I was a Dog Mom:
I made and ate hot meals without being watched every second.
I had unstained, unfurred clothes.
I had quiet conversations on the phone,
even if the doorbell rang.

Before I was a Dog Mom:
I slept as late as I wanted and never worried about how late I got to bed or if I could get into my bed.

Before I was a Dog Mom:
I never stepped on or tripped over body parts.
I didn't know what a bully stick was and never touched an esophagus.

Before I was a Dog Mom:
I had never been Peed on, Pooped on, Drooled on, Chewed on, Or pinched by puppy teeth.

Before I was a Dog Mom:
I slept all night without sharing the covers or pillow.

Before I was a Dog Mom:
I never looked into big, soulful eyes and cried.
I never felt my heart break into a million pieces when I couldn't stop a hurt.
I never knew something so furry and four-legged could affect my heart so deeply.

Before I was a Dog Mom:
I had never held a sleeping puppy just because I couldn't put it down.
I had never gotten up in the middle of the night every 10 minutes to make sure all was well.
I didn't know how warm it feels inside to feed a hungry puppy.
I didn't know that something so small could make me feel so important.

Before I was a Dog Mom:
I had never known the warmth, the joy, the love, the heartache, the wonderment or the satisfaction of being
A Dog Mom

Author Unknown
Happy Mother's Day from the Dog

You feed me when I'm hungry,
You keep water in my dish,
You let me sleep on anything
Or in any place I wish.

You sometimes let me lick your hands,
or even lick your face,
Despite the fact I've licked myself
In every private place.

You taught me how to come when called,
You taught me how to sit,
You always let me go outside,
So I can take a s--- stroll.

You'll always have my loyalty,
up to the bitter end,
'cause after all, it's plain to see...
You are a dog's best friend!


Happy Mother's Day!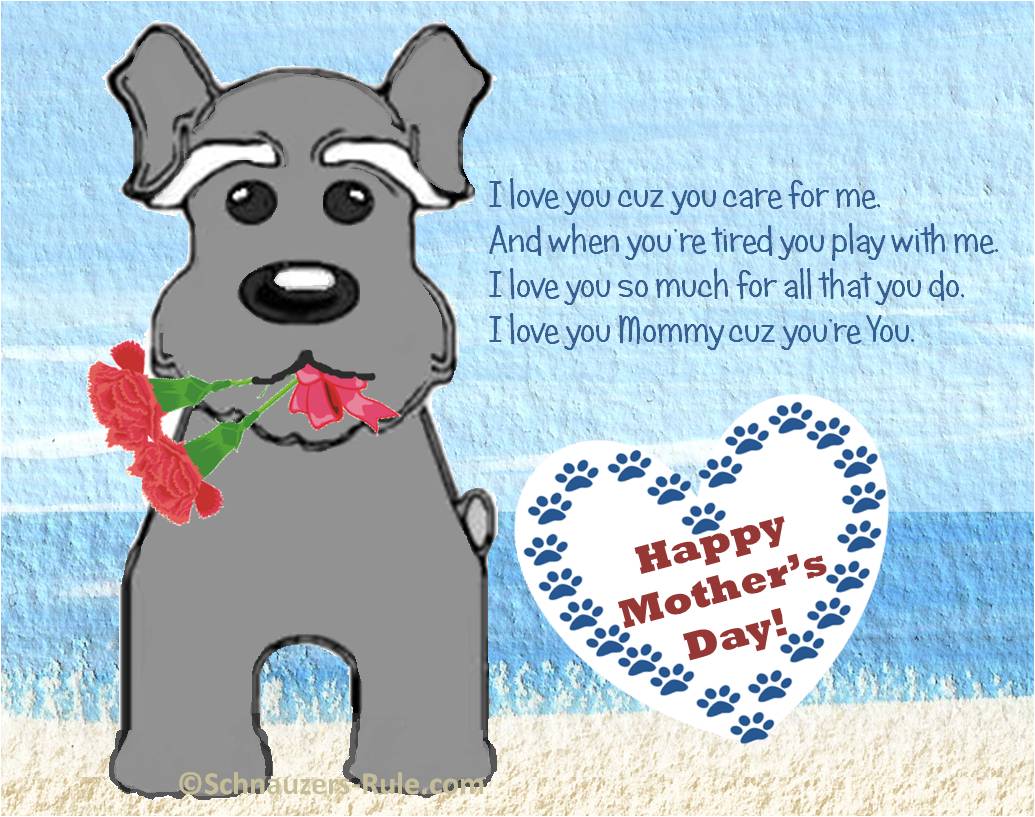 Search Schnauzers-Rule.com
Custom Search
---
Go from Mothers Day Dogs to About the Miniature Schnauzer
Go from Mothers Day Dogs to Miniature Schnauzer Gifts
Related Topics:
★ Pet Caricatures
★ Free Dog Ecards
★ Dog Quotes