Miniature Schnauzer Maddie
by Michelle Burns
(Austin, Texas, USA)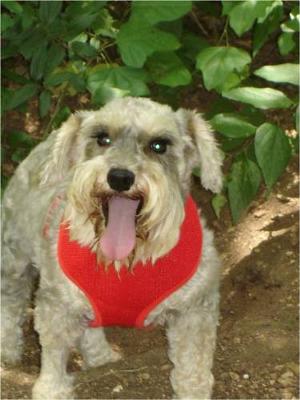 Miniature Schnauzer Maddie ready for her new forever home.
From the Mill to a real life

I am Michelle, and I am a foster mom to a wonderful Miniature Schnauzer, now named Maddie. Before she came to live with me, she had a slave name (Drusilla), but her owner just called her by her chip number. She lived in a large breeding facility. She is 8 years old, almost 9. Her previous owner recorded 13 litters of puppies before she stopped breeding.

Through a woman who rescues breeding dogs from mills, she has now discovered the joy of living with people. We have had her spayed (her uterus was a mess), we have had several large bladder stones removed (probably made pregnancy really uncomfortable if not painful) and we had the few remaining rotted teeth removed. It has given her the absolutely most adorable toothless grin. She has just thrived.

She is incredibly intelligent and loyal, although she has minimal stamina. Just a short walk through the farmer's market can wear her out, but she is getting stronger. I have never fostered a Miniature Schnauzer before (usually Chihuahuas, Dachshunds and Jack Russells) and I have to say I am truly in love. Maddie has been blogging about her experience. You can read her stories at http://milldogdiaries.tumblr.com

Maddie will be ready for her forever home in the next week or so and I know she will do really well. And, I will miss her like crazy. But, I won't be a failed foster home--she really needs a home without the level of stimulation in a foster home. But my next dogs will probably be Miniature Schnauzers.

Miniature Schnauzer Maddie's pictures:

Maddie is already for her new forever home!

Maddie photographed just before her surgery to be spayed and to remove the large bladder stones.

Maddie after her dental where her remaining rotten teeth had to be removed.