Merry Christmas!
by Debra Dempsey
(Salem, KY)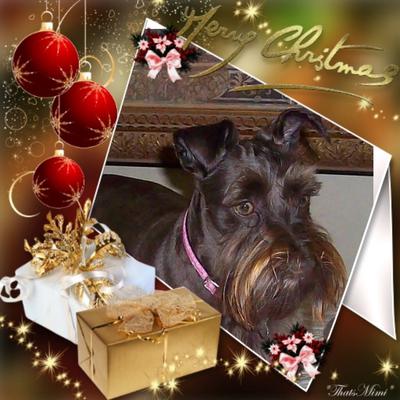 Merry Christmas
Merry Christmas from Mali Elizabeth and Demi Shae! Mali is 5 and Demi Shae is 2. They are best friends and do everything together even getting into the toilet paper everyday!

Mali's favorite thing to do is go for a ride in Dad's truck and Demi's is to lay in Mom's lap! They keep you on your toes at all times. They are spoiled rotten and get pretty much whatever their little hearts desire!

They are so excited for Santa to arrive and said they would even share their treats when he comes down the chimney! Mali wants lots of new tennis balls to play with and Demi just loves all toys!

If Santa can't bring toys they will just enjoy eating the Christmas wrapping paper when everyone opens their gifts!

Schnauzers are great and my girls do not know they are doggies! Mali is sitting in the kitchen chair right now as I type and yes, Demi is in my lap!

As my motto goes: you can't have just one "Schnauzer"...

Merry Christmas and God Bless from this Schnauzer family to yours!