Meet Sir Waldo Benson Bailey
by Linda Bailey
(Birmingham, MI)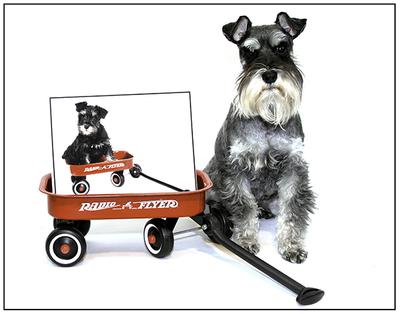 Before (10wks) and After (5 yrs)
Waldo became a joyful addition to my family in 2007. I had moved to Alaska with my three pugs and when I learned one of my co-workers had a litter of mini schnauzers on the way I knew I just had to have one. My grandmother had once when I was growing up named Toby, and I always loved that dog. So Waldo came to join the family at ten weeks old. He was the odd one with the snout and whiskers, among three flat faced pugs. It didn't take him long to learn how to snort, to his breeders dismay. lol To this day, he will snort on request.

Born a beautiful black and silver, he has slowly turned more of a dark gray throughout the years, but he is still handsome as ever. My favorite photo of him is where is he sitting next to a red wagon at 5 years old, with a photo of himself sitting in the very same wagon when he was just ten weeks old.

We have since moved back to Michigan where Waldo loves sitting in the bay window watching cars drive by and barking at the people walking by. He also enjoys going for walks where he keeps his eye out of wild bunnies and squirrels. At home he can play for hours still even at almost 9 years old. His favorite games are tug and fetch.

A very photogenic boy, Waldo likes when I get the camera out as he knows it means treats with every click.