Meet Miss Evie T
by Phyllis
(Maricopa, AZ)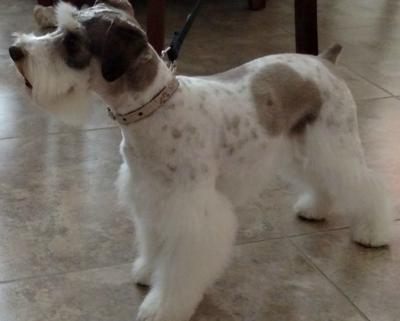 Strutin Her Stuff
Our little Miss Evie T, is a Parti color, meaning she has patches of brown and black on her otherwise white coat. The Parti gene only exists in the Miniature schnauzers due to the interbreeding with Poodle, Miniature Pinscher, Affenpinscher and others that were used to scale down the Schnauzer size. This inadvertently brought new color genes into our Mini version that didn't exist before. This "parting" of color can be in the form of large saddles of color, as a splattering of colored freckles, or both, anywhere on the body. Parti's are recognized as purebreds by the AKC and can compete in Obedience and Agility Trials. I found their history interesting.

While Evie's color may be a bit different everything else is all Schnauzer. She is my companion, and a source of great joy. We got her as we were transitioning in our lives. My husband suddenly developed serious heart issues resulting in a defibrillator implant, retirement, and relocating. It was stressful, but Evie brought the sunshine back into our lives as we adjusted to all these changes. She has so much personality and 3 years later still makes us laugh everyday.

She loves her tennis ball and there are only two reasons she will drop it; the promise of food or so you can throw the ball again. If I give her two at a time she will herd both of them together keeping them close. I'd say a good game of tug-o-war is second favorite game. She has to be in the middle of everything like the kitchen table (I left a few treats on the table) or Christmas decor (I had hidden her tennis ball while I made dinner). She is determined, smart, curious, loving, and a cuddle girl. I have always had dogs in my life, mostly large breeds, and I have loved them all, but I must confess, Evie holds a special place in my heart. Thanks for letting me share our story.