Meet Baxter!
by Andy Wright
(Oshawa, Ontario, Canada)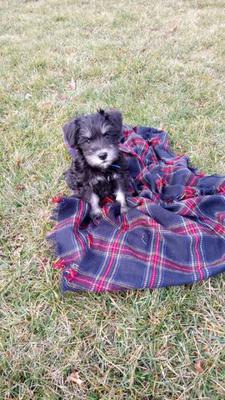 Sitting Pretty
This is Baxter!
My wife and I picked him up at 7 weeks old weighing in at a whopping 3 pounds! He's been such a handful already but in a good way, he's already begun to show some fun personality traits such as pouncing up and down when excited, small little growls when he's confronted with stairs and can't figure how to attack them as he has not yet found his bark, but It's coming soon I'm sure of it. He's taken to his crate as such a safe place with very minimal persuasion and has allowed us to sleep through the nights cry free. Although he's enjoying the leaves on the ground now, we're looking forward to his reaction when our first snowfall hits the ground. Yes he's been a handful but we wouldn't have him any other way and are looking forward to years of fun and joy that he'll bring into our lives!
Joanna & Andy
Join in and write your own page! It's easy to do. How? Simply click here to return to 2016 Schnauzer Photo Contest.