Lost Dog Poster
Creating an effective lost dog poster or flyer to help you find your missing Miniature Schnauzer is so important. Use the example below as a guideline and the type of information you should provide so your Miniature Schnauzer can be found and returned home safely.
You want your poster to grab attention and provide pertinent information so you have the best chances of being reunited with your pet.
Review the previous article on finding a missing pet for what steps you need to take to increase your odds. And when you create your flyer be sure to include:

Good photo of your dog

Specific description including identifiable marks

Where and when your pet went missing

Offer a reward when possible

Up-to-Date contact information



LOST DOG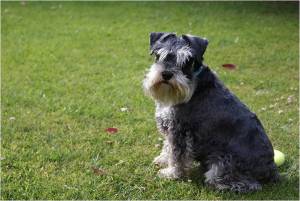 $$$ REWARD $$$

WHERE: Boca Raton, Florida 33446 Palm Beach Cty

Lost Dog: Max, a small, male, Miniature Schnauzer weighing 12 pounds, was lost on Monday July 12, 2010 around 4 p.m. Our dog somehow got out of the back yard or was taken from our home located in the "Villages of Oriole" subdivision.

Dog Description Max is a salt & pepper Miniature Schnauzer which means he has a gray coat with white whiskers and leg furnishings. He was wearing a blue collar with a silver bone shaped ID tag alone with a orange Palm Beach County rabies tag from the Boca Delray Animal Hospital. Max is microchipped so if his collar is missing, please take him to a vet clinic and have him scanned for our contact information. Max is 4 years old and very friendly.

Reward Offered: We are praying someone can help us find Max and will pay a reward for any information leading to Max's safe return.


Please Contact: Beth
Home Phone: 888-888-8888
Cell Phone: 888-888-8888
Email: youremailaddress.com
Distribute posters with pictures of your lost dog, in grocery stores, dog parks, schools, convenience stores, take to vet clinics and shelters, and post your Miniature Schnauzer's poster on telephone polls and buildings. 
Also, be sure to pass flyers out to friends and family and ask them to help you get the word out that your Miniature Schnauzer has gone missing. The more people you have helping you, the more ground you will be able to cover, increasing your chances of finding your dog.

---
Go from Lost Dog Poster to About the Miniature Schnauzer on Schnauzers Rule
Go from Lost Dog Poster to Lost Dog
Related Topics:
★ Dog Microchip
★ Dog Travel Safety
★ Dog Articles