Lola Jane Pants & Maeby Lou von Schnauzer
by Gary Worosz
(Dunkirk, New York)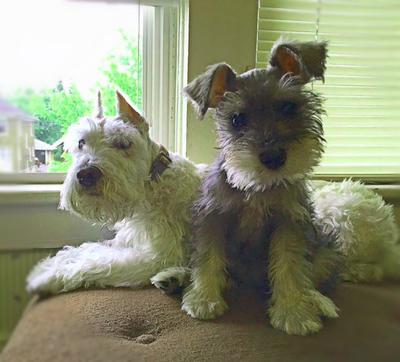 Lola Jane Pants is our 10 year-old Mini Schnauzer. She lost her 9 yea-old brother, Rufus, in May of this year. She was there the day he passed away at our house. She has been very depressed and mopey ever since.
We began to look for Mini Schnauzer pups about a month later, to hopefully snap her out of her funk.
There were no schnauzers in our area. After an Internet search, we discovered a breeder in Ohio. We made contact, and took a 4 hour trip to pick up Maeby Lou.
Lola is now adjusting to having a puppy in the house!