Life With Kylie and Pixie
by PAULA
(EL PASO, TEXAS)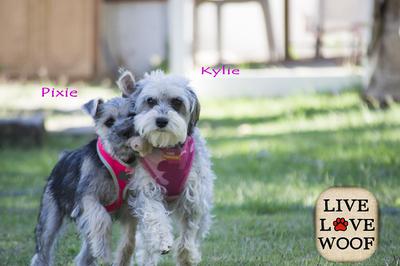 I had never owned a dog before Kylie. Two years ago I first heard about Kylie through a friend. Her neighbor was going through a divorce and he didn't want her anymore. When I saw her picture I fell in love with her and I wanted her to come live with us. I spoke to the owner and he told me that several persons were inquiring on Kylie and some were offering money for her. I told him that I was willing to pay for her, and he stated that he just wanted a good home for her. I asked him to come over to our house and look it over, as I really wanted her to be a part of our family. He agreed and he came over and we spoke and he felt that she would be happy with us, so he went back home and brought her to her new home.

This year my husband arrived with a new addition to our family. On Valentine's Day I met Pixie. Pixie was only 8 weeks when I got her and she and Kylie have become the best of friends. They are inseparable. They also have a best friend called "mousy" and he is in the pictures as well. I bought "mousy" for Pixie because she was so tiny when I got her that I thought she would love playing with him. Well, as it turned out, he also became Kylie's new friend and he is their favorite toy.

I love my girls, they are funny, very loving, playful and they are my babies. I can't imagine a life without them.