LeashLocket Review & Giveaway
LeashLocket is the new retractable leash that snaps onto your dog's collar so that he's carrying his leash, well when he's off leash. So when you want to leash your dog, you just grab the locket.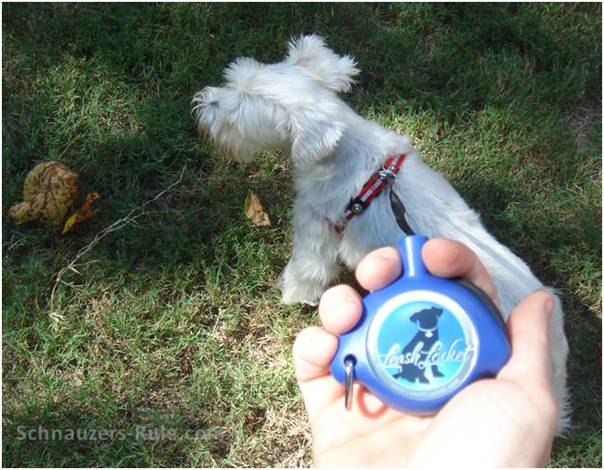 I received the Leashlocket to review 5 days ago and was super excited to try it out right away.
First thing I wanted to check out was how it was going to feel, holding it in the palm of my hand. I thought after years of holding a regular handle leash it might feel awkward or take some getting used to, but I was wrong.
It's super comfortable to hold and I immediately got the hang of using it. If you know how to use a regular retractable dog leash now, you will find it very easy to use.
Okay, so next I needed to read through the brochure to make sure I knew how to work it properly for the safety of my dog. It comes with a collar attachment which snaps around your dog's existing collar.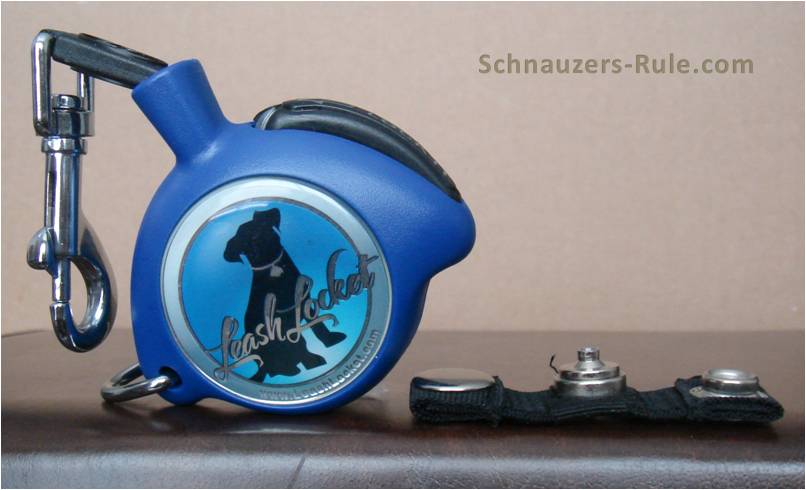 What's nice about the attachment is it's made with a stretchable elastic band, so it can fit many different sizes of collars and even harnesses.
I tried it on several collars ranging from 1/4" to 1 inch and it fit each one perfectly. You just want to make sure the rivet is facing outwards (ie the tip facing you) when attaching it to your dog's collar (see #1 tips & warnings below).
Here are 4 pictures showing the rivet facing outwards on different collars and on a harness.
Collar Attachment Fits Many Different Collar Sizes & Harnesses


1/4" collar


1/2" collar


1 inch collar


dog harness

Once the collar attachment is on the collar (or harness) go ahead and put the collar on your dog. Next, take the hook and clip it to your dog's D-ring just like you would any leash. While holding onto the LeashLocket simple back away from your dog and the leash extends out, up to 6 feet.
Next, test out the braking feature and lock feature before heading out. Be sure you know how to lock it properly onto your dog's collar. (see tips & warnings #2)
Okay, I have to admit, that although the LeashLocket only weighs about 2.5 ounces, my dog was aware there was something new on his collar and at first, acted as if he could not move. He's such a baby sometimes. LOL. But as soon as I asked, "Do you want to go to the park?" He forgot about it. I did decide to use it on his harness instead because that is what we normally use.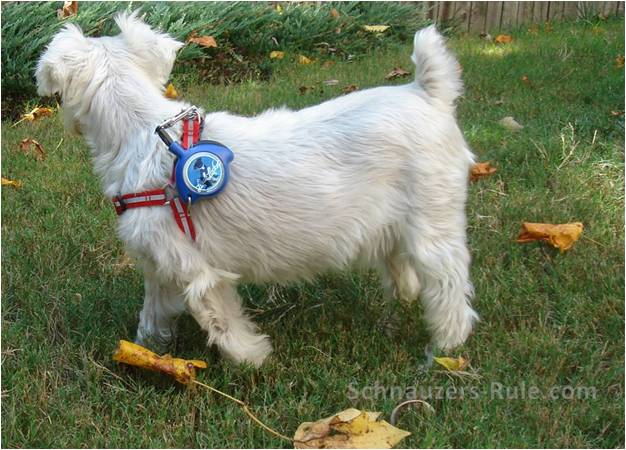 Okay, so off to the park we went. Just before pulling out of my driveway, I remember feeling as if I had forgotten something. Then I looked at my dog and realized what it was - the leash and he was wearing it. Cool.
Once we got to the park, there was no fumbling around trying to attach a dog leash before getting out of the car. I just grab the LeashLocket from his harness and we were off walking.
I took my dog into the off-leash area to see how comfortable he was wearing it. There were no other dogs inside the pen at the time but he roamed around freely and was completely unaware it was attached to his harness.
Then I repeatedly tested it out by having my dog run ahead and stop just to see how quickly I could grab the LeashLocket and have my dog under leash control. I wanted to see how smoothly the leash transitioned from "in-place" to "in-use". It worked very well.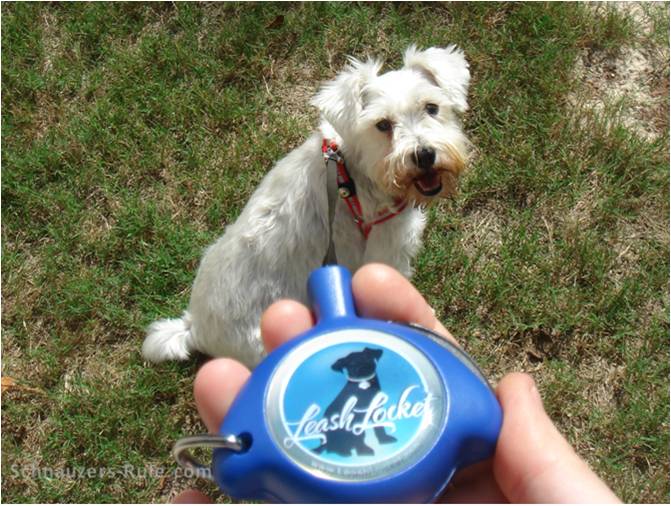 The LeashLocket gets 4 Paws Up





Overall, we were very pleased with the product and it gets four paws up! It is very durable, only weighs about 2.5 ounces and it extends to nearly 6 feet. Visit LeashLocket.com to find out more!
A few mistakes I made along the way (completely my fault due to the excitement of trying out something so new).
Don't try and snap the attachment to your dog's collar while he is wearing it. I tried this first and ended up with the rivet facing in the wrong direction. LOL. It's much easier to put the attachment on your dog's collar or harness first and then put the collar (or harness) on your dog.
Be sure it is completely and securely inserted onto the collar attachment. The magnet feels like it is attached but when my dog did a full body shake, it came off. Again, my fault. I did not have it totally inserted onto the rivet. So be sure it is in place correctly.
It is your responsibility to make sure you have your dog under control at all times. If you have not taught your dog to stop or heel on command, I would suggest you doing so before using this product.
Win a LeashLocket for Your Dog
We are giving away a Leash Locket to one lucky Schnauzers-Rule.com reader. Just tell us why you would like to win a Leashlocket for your dog. Contest ends October 7, 2011 So be sure to enter today!
Sorry, the Leash Locket Giveaway Contest is now over. 

---
Go from LeashLocket Review to About the Miniature Schnauzer on Schnauzers Rule
Go from Leash Locket Review to Dog Contests