Freddy rescued me!
by Andy
(Long Beach, CA, USA)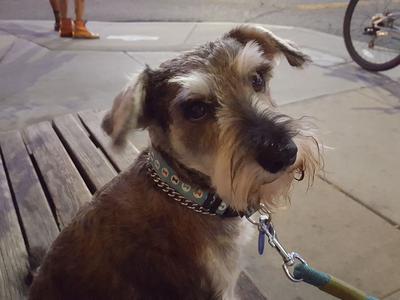 I work at home doing very creative stuff (music, writing) and to be honest, at times it can be very lonely. I thought having a dog in the house would make matters worse, I would be distracted and the dog would be a lot of trouble. So I never brought one home.

Then about six months ago I somehow got the idea that I needed a Miniature Schnauzer. They just "looked right" in the photos and I was in love.

In Southern California there several ways to adopt Schnauzers, and they do come up for adoption often. I must have waited 6 months while registered with one of the online email services, being notified when puppies and rescue dogs came up for adoption. And then this one email caught me eye...

...a 1-year old Salt and Pepper Miniature Schnauzer was rescued by a dog breeder and was up for adoption. His online photo wasn't the best, but I thought he was right for me. I decided to drive out to see him and brought him home that same day. He wasn't fixed and he is 100% natural (undocked) so I decided to fix him but to keep him trimmed but with a long tail.

Frankly, I don't understand the rush to dock these guys. He has the most gorgeous floppy ears, silky, like mother of pearl, and his tail is like fine feathers, he walks with it curled up over his body and he looks absolutely gorgeous. Everyone says as they walk by, "what kind of dog is that? I want one."

I have been trimming his upper body and muzzle a bit but otherwise Freddy is the way he is going to be.

And in the meantime, I watch less TV, have lost weight, am always happy, made a ton of dog park friends with Freddy, and I am now thinking of getting another Schnauzer. I didn't rescue Freddy -- he rescued me!