Fathers Day Dog Gift Ideas

Fathers Day Dog Gifts, Poems, and Ecards for Mini Schnauzer Dads
Father's Day is celebrated annually on the third Sunday in June to honor all dads, including those dads with four-legged children. I'm sure it's apparent to everyone in your home, your Miniature Schnauzer has a very special bond with dad. They spend quality time together, share great adventures, and just seem to understand each other. So be sure to include something special for dad from his favorite canine this year: Dog Gifts for Dad. He will love it!
To all the dog dads that feed us, walk us, love us, and care for us... Happy Father's Day.
A Place Just For Dad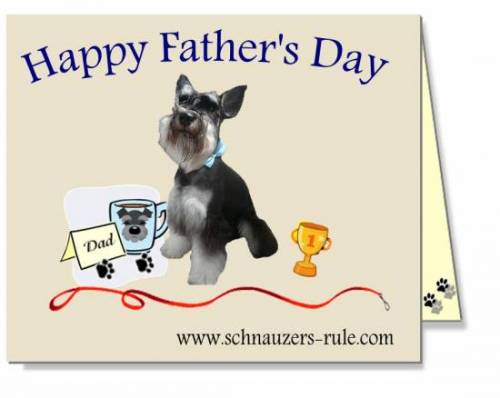 We may not shower him with praise
Nor mention his name in song,
And sometimes it seems that we forget
The joy he spreads along.

But it doesn't mean that we don't know
The wonderful role he's had.
And away down deep in every heart
There's a place that is just for Dad.

~ Author Unknown
Read even more Father's Day Dog Poems and Quotes below.
Father's Day Gifts for Dog Dads
Here are just a few suggestions on what to give the World's Best Dog Dad this year:
Make dad a special gift that is just from your Schnauzer.


Send dad our free Father's Day Dog Ecard from your Schnauzer.

Create a Schnauzer scrapbook or photo memory book. Personalize with pictures of dad and your Mini Schnauzer at play, on an adventure, or just lounging around the house.

Have a whimsical caricature created just for dad.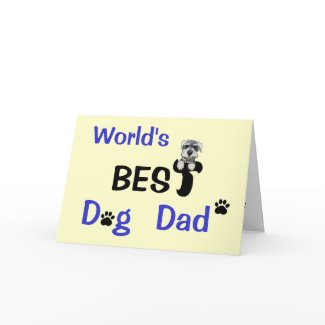 World's Best Dog Dad Card
What to say in a Fathers Day Dog Card
Finding just the right words to tell dad that he is appreciated and loved is sometimes hard to do. If you would like to try something a little different, you could include a favorite poem or famous quote about fathers and add it to a card.
Better yet try writing a poem or quote from your Miniature Schnauzer to Dad. It doesn't have to be too fancy and it will surely put a smile on Daddy's face.
Here are a few suggestions as to what to write inside your card:
Just sit back, relax and ... Feel appreciated!
You are top dog Dad! 
You make me so happy, I can't stop barking about it.
Being with you Dad is totally pawsome!
You're the greatest Dad a dog could ever have.

I'm so lucky cause you're my Dad and best friend.
And for those of you who like to be a little sarcastic:
Dad you and treats are the most important things in my life, although not necessarily in that order.
Dad thanks for always picking up my poop. You're the greatest!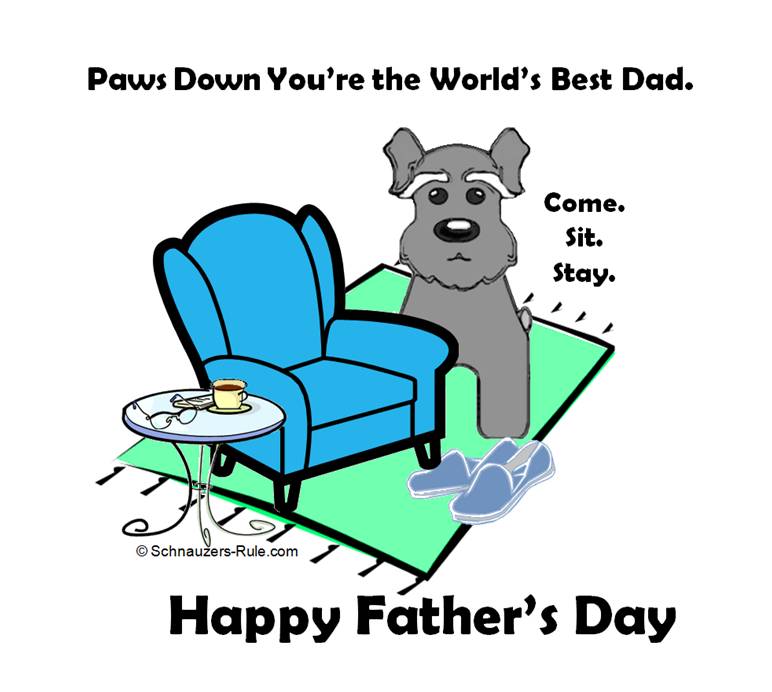 I warmed up your favorite chair and now all you need to do is just sit back and relax. Thanks for being such a great Dad. I love you.

If you like our drawing above, you can order it as a card for dad here:

---
Fathers Day Dog Poems
What Makes A Dad

God took the strength of a mountain,
The majesty of a tree,
The warmth of a summer sun,
The calm of a quiet sea,

The generous soul of nature,
The comforting arm of night,
The wisdom of the ages,
The power of the eagle's flight,

The joy of a morning in spring,
The faith of a mustard seed,
The patience of eternity,
The depth of a family need,

Then God combined these qualities,
When there was nothing more to add,
He knew His masterpiece was complete,
And so, He called it ... Dad

~ Author Unknown

Happy Father's Day from the Dog

You feed me when I'm hungry,
You keep water in my dish,
You let me sleep on anything
Or in any place I wish.

You sometimes let me lick your hands,
or even lick your face,
Despite the fact I've licked myself
In every private place.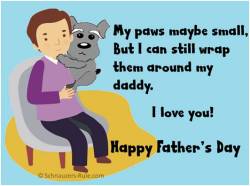 You taught me how to come when called,
You taught me how to sit,
You always let me go outside,
So I can take a s--- stroll.

You'll always have my loyalty,
up to the bitter end,
'cause after all, it's plain to see...
You are a dog's best friend!


Happy Father's Day!

Happy Father's Day

Happy Father's Day means more
than have a happy day.
For within those words lie lots of things
we never get to say.

It means we love you first of all,
Then thanks for all you do.
It means you mean a lot to us,
And that we honor you.

But most of all, I guess it means
that we are thinking of...
Your happiness on this, your day,
with pleasure and with love.

~ Author Unknown

The greatest gift I ever had came from God, and I call him Dad! Thanks for taking care of me and loving me. Happy Father's Day!
---
Go from Fathers Day Dogs to About the Miniature Schnauzer
Go from Fathers Day Dogs to Miniature Schnauzer Gifts
Related Topics:
★ Pet Caricatures
★ Free Dog Ecards
★ Dog Quotes