Excuse my wet beard - I'm learning how to Schnauzer
by Alice Humphreys
(Harlow, Essex)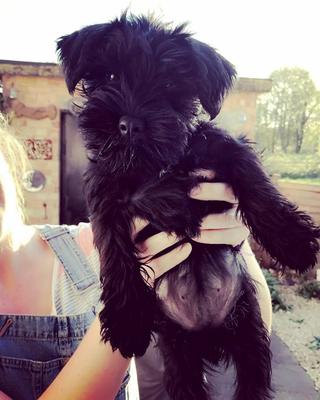 This is Dollie our 4 month old black Mini Schnauzer. She is the cheekiest, cutest most characteristic pup ever!!

She loves to eat her Mums flowers, sleep on top of our other Schnauzer and hang off her beard a lot.

She really looks up to the other dog we have they are like a pair of old women when together! When toast (the other dog) barks, Dollie barks, Toast poops, Dollie Poops, Toast sleeps Dollie sleeps, Toast eats, well Dollie tries to eat hers too!

A beautiful pup with a beautiful personality, how can you deny that face?