Mini Schnauzer Dog Info Card

Our dog info card is just for your Miniature Schnauzer!
Having your dog's information with you at all times is really a good idea. In fact, you should fill out the card and make copies to keep in several places like your purse, glove compartment of car, at work, and so on.
This way if an emergency situation comes up, you or someone else will have on-hand emergency contact information as well as other important information in order to get your Miniature Schnauzer the help he needs, as quickly as possible.
And here's a good tip: Attach a picture of your dog to the card for further identification.

Click here to fill in a dog information card
S.N.I.F.F. Schnauzer Necessary Info Fast Facts
Fill in all information on your Miniature Schnauzer including the dates your Miniature Schnauzer tested negative for heartworms - your Miniature Schnauzer's Rabies ID# - any medications your Miniature Schnauzer is taking (like insulin) etc..
Ask a friend or family member to be an emergency contact for your Miniature Schnauzer, AND fill in any additional comments that might be beneficial for someone else to know about your Miniature Schnauzer.
example: Very friendly. Home Alone. Allergic to wheat.
You never know when you might need it.
Here's a scenario where having a dog information card handy would come into play:
Let's say you're a single pet parent of a Miniature Schnauzer that has diabetes and the unthinkable happens on your way home from work and you get into a car accident.
While you are being tended to, your S.N.I.F.F. card will alert someone that you have a Miniature Schnauzer at home - ALONE! and your Schnauzer will need his insulin soon!
Without that information, your Miniature Schnauzer would be left wondering what happened to you. He needs to 'go out', he's hungry, and most importantly, in this particular situation, he needs his insulin!
Thank goodness the card provided all the information and emergency contact numbers to make sure your Miniature Schnauzer will be okay!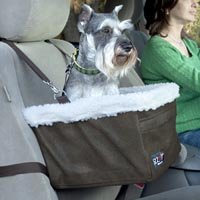 Your Schnauzer's dog info card is also a great reference guide when traveling with your Miniature Schnauzer! This way you'll have all your your dog's important medical facts, Vet contact numbers, and identification info on-hand at all times.
And don't forget to have a copy for pet sitters or dog walkers that you may hire to care for your dog in your absence. The pre-filled information about your Schnauzer could prove invaluable should an emergency situation arise. It's a handy, quick, go-to reference guide for your dog.

Further Reading: Read our dog boarding tips before you choose a kennel or dog boarding facility for your Miniature Schnauzer.
Search Schnauzers-Rule.com
Custom Search
---
From Dog Info Card to All About the Miniature Schnauzer, Schnauzers Rule
Go from Dog Info Card to Dog Health
Related Topics:
★ Lost Dog
★ Responsible Dog Ownership
★ First Aid for Dogs
★ Miniature Schnauzer Health