Bow Wow Pet Wear Giveaway

One of our Schnauzer-loving followers, who we met back in 2009 is Mandy Cable. Mandy is the owner and designer Bow Wow Pet Wear. Bow Wow Pet Wear makes our "Furkids Fashionable". Along with her mother, Nita, and her love for animals, Mandy set out to create a shop just for our furkids. There's just something special about having a handmade item for your Schnauzer. And Mandy has everything from collars and harnesses to some special gifts for us pawents too.

Schnauzers Rule has teamed up with Bow Wow Pet Wear to bring our readers and followers a chance to try out Mandy's collection for FREE. Yes, you heard it right, FREE. We will be giving away 5 Great Prizes (see below) over the next several weeks. But you have to enter to win! Are you ready?
Yes!
Okay. But first let me tell you about the great prizes you can win and how the giveaway will work.
Giveaway Rules:
Over the next several weeks we will be awarding one of 5 prizes to 5 lucky people.  Every few weeks, beginning August 17, 2019 through October 25, 2019 a winner will be chosen at random from all those who post a comment below. If you do not have a Facebook account, your name will still go into the random draw if you fill out this contest form.

And although it is not necessary for eligibility of this giveaway, if you are on facebook and would like to LIKE our Pages, we would love that too! AROO

note: Complete list of rule for this Contest/Giveaway are posted towards the bottom of the page. All prize photographs are property of Bow Wow Pet Wear and should not be re-published without their consent.
---
Okay now for the prizes:
PRIZE 1 - Comfy Solid Chest Harness for Dogs
Entry Dates:
Aug 17, 2019 - Aug 30, 2019
Winner will be announced August 31, 2019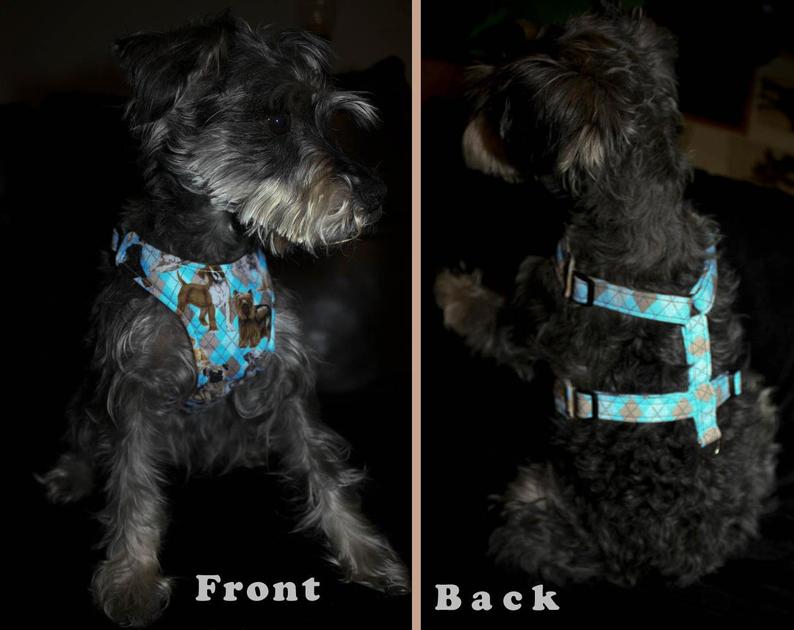 Made out of cotton, this comfortable chest harness is easy to put on and take off your dog.
The solid chest panel in front also has batting in it to provide extra padding and comfort to your furbaby.
Your Schnauzer will love wearing this fashionable harness.

Congratulations to Margie Krotzer
HARNESS WINNER 

---
PRIZE 2 - Schnauzer Coaster Mug Rug, Snack Mat (Two)

Entry Dates:
Aug 31, 2019 - Sep 13, 2019
Winner will be announced September 14, 2019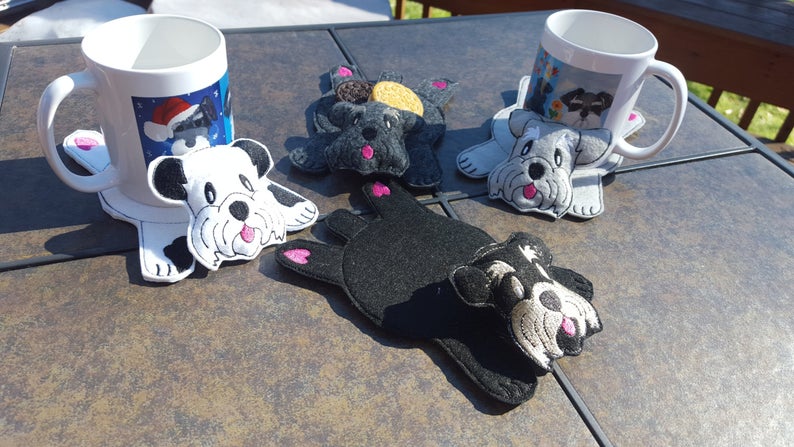 Just for the pawents! Your choice of 2 Mug Rugs. Aren't they the cutest. These Schnauzer Coaster Mug Rugs or Snack Mats make the perfect gift for you or your Schnauzer-loving friend. Each one has an adorable Schnauzer face, a little nub and heart paws. And Mandy has lots of choices with crop or natural ears, solid colors, and parti color. So you can choose the ones that best reflect your dog.
 

Congratulations to Amber Williams
 SCHNAUZER COASTER RUGS WINNER 
---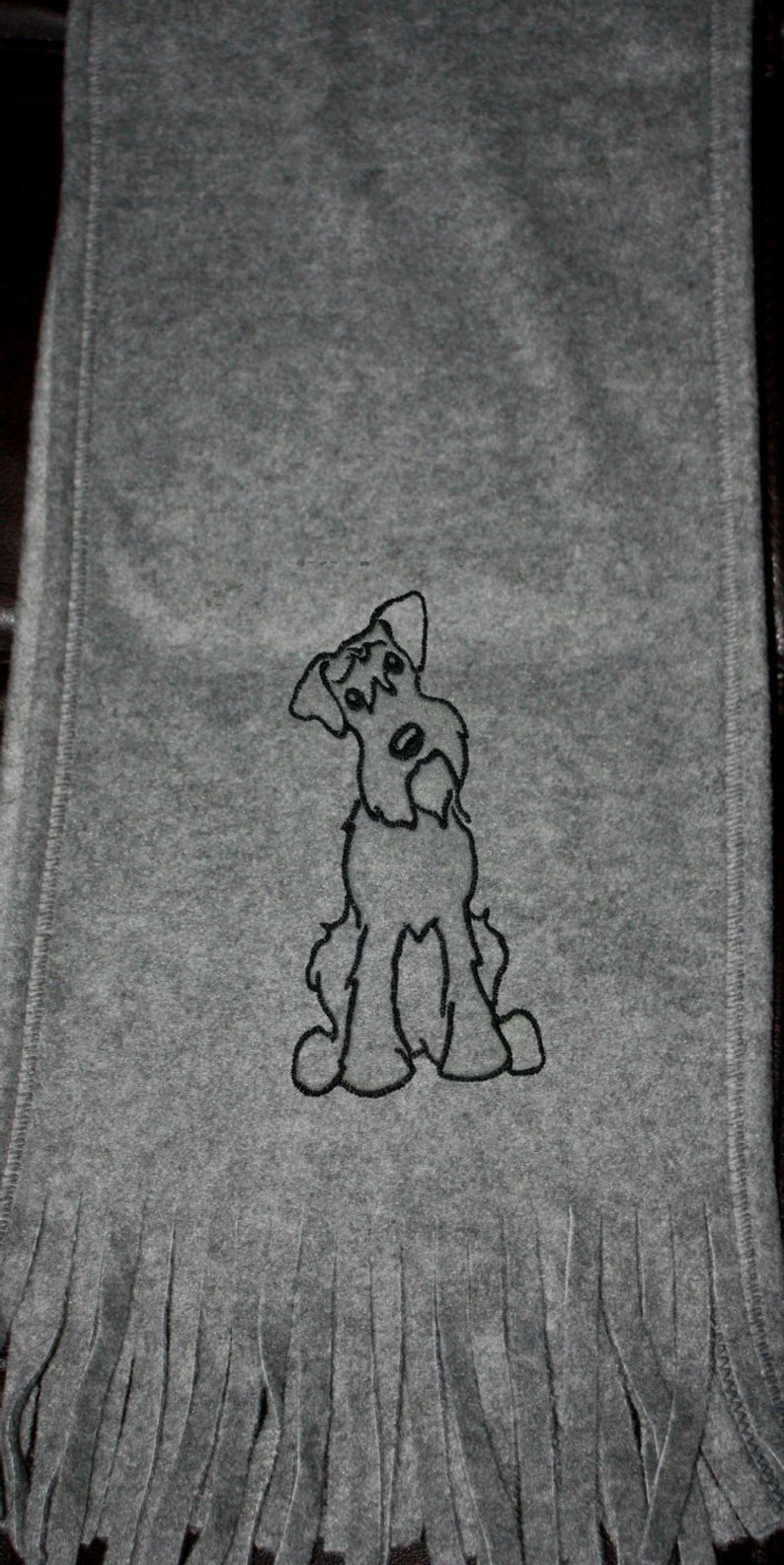 PRIZE 3 - Schnauzer Scarf

Entry Dates:
Sep 14, 2019 - Sep 27, 2019
Winner will be announced September 28, 2019
This warm Schnauzer Fleece Scarf will make the perfect gift to yourself or a Schnauzer-loving friend. Fringed at both ends, you choose the color and design.
note: Schnauzer design is embroidered on one side of scarf.

Congratulations to Jacki Muir
 SCHNAUZER FLEECE SCARF WINNER 
---
PRIZE 4 - Personalized Schnauzer Christmas Ornament (Two)

Entry Dates:
Sep 28, 2019 - Oct 11, 2019
Winner will be announced October 12, 2019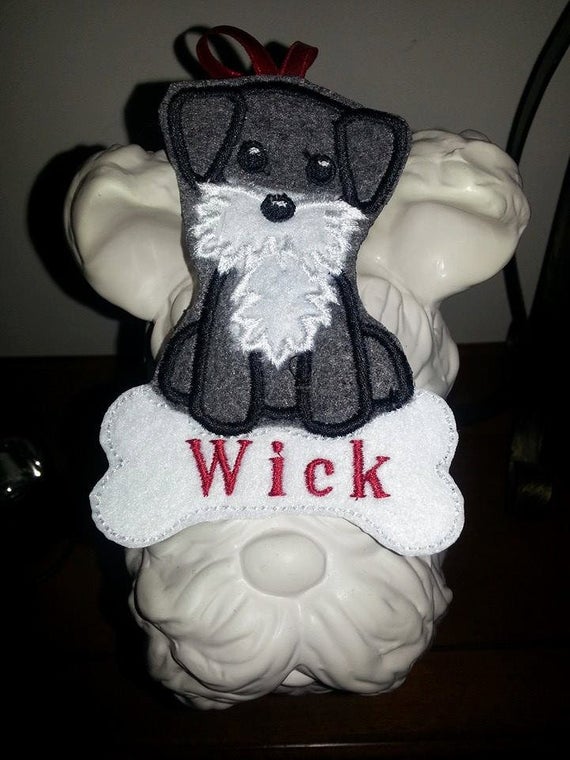 And just in time for the upcoming holidays, an adorable personalized Schnauzer ornament. Made out of felt, this ornament personalized with your Schnauzer's name will look great on the family Christmas tree this year. We are giving away two of these cute ornaments.

And just in case you don't celebrate Christmas, you can also use it as part of the decoration on a gift package or what about putting it on a bottle of wine for the hostess that owns a Schnauzer. She will love it!

Congratulations to Nancy Powell
 PERSONALIZED SCHNAUZER CHRISTMAS ORNAMENTS WINNER 
---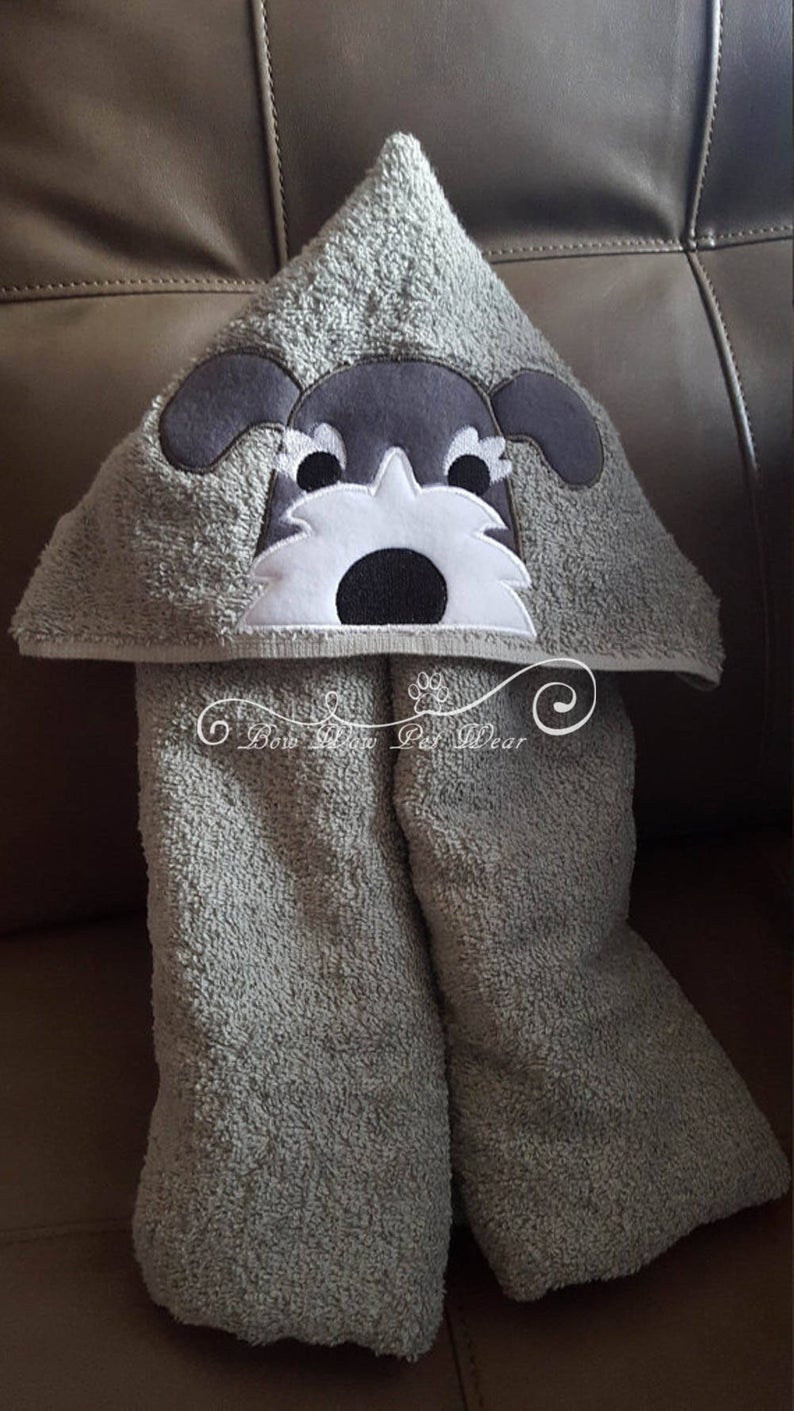 PRIZE 5 - Schnauzer Hooded Bath Towel

Entry Dates:
Oct 12, 2019 - Oct 25, 2019
Winner will be announced October 26, 2019
Well it doesn't get any cuter then this, does it? Schnauzer Hooded Bath Towel.This plush terry cloth full size bath towel has cute Schnauzer hood. I bet your Schnauzer might even look forward to bath time knowing you will cuddle him up in this bath wrap. Too cute!  


Congratulations to Anita Setterholm Forrest
 SCHNAUZER HOODED TOWEL WINNER 
And even if you don't win a prize this time, remember - Bow Wow Pet Wear always offers free shipping on orders of $35 or more. So go shopping!

---

Bow Wow Pet Wear Giveaway
---
BOW WOW PET WEAR CONTEST FORM

If you do not have a facebook account, you may still enter the GIVEAWAY by filling out the contest form below. Once we receive your entry from the form, we will post your name to this page just below the contest form, as an entry. So be sure and check for it so you know your entry was received. (could take 1-2 days to be posted)

The list of names below are those that filled out the contest form above ilo commenting on Facebook app. Each name below will be entered into the drawing for a chance to win one of the five prizes in the Bow Wow Pet Give-Away.
Linda South
Ann Nibbs
Nancy Schrum

Max Alba

Lisa Zimmerman

Crystal Buchanan

Mitral Golden

Nanette Wilson
Dayana Jordana

Jean Underwood
Loren Goldman

Margie Krotzer

Jerri Williamson

Jean Ramsey

Wayne Duggan
Leslie Spiece
Sheila Baggett
Carolyn Jacobs
Victor Hardy
Dawn Johnson
Tammy Hikes
Stella McVicker
Ozzie Cohan
Dominick Cericola
Deana George
Kitty Coursey
Korren Penney



Jacki Muir
Mary O'Brien
Katrina Heiser
Jill Bell
Brenda White

Sue Keenan

Paula Yutzy
Nicole Seberson
Denise Seberson
Melissa Phillips
Jacki Muir
Bernetta Elliott

MarySue McLey

Fred Fornwalt 
Barbara Rocco
Dayana Jordana
Lynn McLean
Betty Jones
Gloria McCown
Donna Gillespey
Nevin Wike
Angie Choate

Carey Harper

Angelina Bautista
Amy Soper

---
Other Rules of Bow Wow Pet Wear Giveaway:
NO PURCHASE IS NECESSARY TO ENTER OR WIN. A PURCHASE DOES NOT INCREASE THE CHANCES OF WINNING.

You must be a resident of the United States and 18 years old or older to enter.

How to Enter: You must post a comment on this page where indicated via the Facebook app

or fill out the contest entry form on this page.

The entry must fulfill all give-away requirements, as specified, to be eligible to win a prize. Entries that are not complete or do not adhere to the rules or specifications may be disqualified at the sole discretion of Schnauzers Rule. You may enter only once from August 17, 2019 through October 25, 2019 and you must fill in the information requested. You may not enter more times than indicated by using multiple email addresses, identities or devices in an attempt to circumvent the rules. If you use fraudulent methods or otherwise attempt to circumvent the rules your submission may be removed from eligibility at the sole discretion of Schnauzers Rule.

If you win a prize, you are not eligible to win another prize during the same Contest/Giveaway name or time period.

Winners will be chosen at random and notified via the email address they entered onto contest form or through Facebook private message from profile used to comment on this page. Schnauzers Rule shall have no liability for a winner's failure to receive notices due to winners' spam, junk e-mail or other security settings or for winners' provision of incorrect or otherwise non-functioning contact information. If the selected winner cannot be contacted, is ineligible, fails to claim the prize within 15 days from the time award notification was sent, prize may be forfeited and an alternate winner selected.




The actual prizes and value of each prize will vary for each Contest/Giveaway as listed above. No substitutions. Prizes may NOT be substituted for one of equal or greater value. No transfer, assignment or substitution of a prize is permitted.

Odds of winning depend on the number of eligible entries received.

Prize winners must claim the winning prize on or before November 8, 2019. Failure by the winner to claim prize may lead to forfeiture of the prize.

Schnauzers Rule reserves the right, in its sole discretion, to award unclaimed prizes to alternate contestants or not to award the unclaimed prizes. Prizes will be awarded and sent directly to winners from Bow Wow Pet Wear. Includes free shipping and handling. Winner assumes the risk of the prize's safe arrival. Delivery of prizes can take up to 2 to 4 weeks.



Give-Away/Contest Period: Entries will be accepted online starting on or about August 17, 2019 and ending October 25, 2019. All online entries must be received by October 25, 2019 11:59PM EST. At then end of each bi-weekly giveaway the name of the winner will be posted on this page. Acceptance of prize constitutes permission for Schnauzers Rule and Bow Wow Pet Wear to use winner's name, likeness, and entry for purposes of advertising and trade without further compensation, unless prohibited by law.


Applicable Law (VOID WHERE PROHIBITED):


All Contests or Giveaways are subject to and governed by applicable federal, state and local laws and regulations. Participation in this Contest/Giveaway is void where prohibited or otherwise restricted by law. Schnauzers Rule and Bow Wow Pet Wear assume no responsibility for whether you are in compliance with the law. You understand that it is your responsibility to ensure you are complying with the rules and regulations of your locality.


Contest/Giveaway Cancellation or Modification:




Schnauzers Rule reserves the right to cancel, terminate or modify any Contest if the Contest is not capable of being completed as planned for any reason, including technical or any other cause. The decision to cancel, terminate, modify or suspend any Contest/Giveaway by Schnauzers Rule shall be final in all respects.




Any family members, employees, agents or contractors of Schnauzers Rule or Bow Wow Pet Wear are prohibited from participating in this Contest/Giveaway and do not qualify as Participants.

Disclaimer of Responsibility for Entries: Schnauzers Rule is not responsible for problems with Contest entries. Web Entries: This Contest/Giveaway accepts web entries and Participants must accurately complete all required fields or the entry will be deemed incomplete and will not qualify.

By entering, each entrant or participant consents to a complete release of Facebook. This promotion is in no way sponsored, endorsed, administered by or associated with Facebook.

Agreement to Rules: By participating, you agree to be fully unconditionally bound by these Rules, and you represent and warrant that you meet the eligibility requirements set forth herein. In addition, you agree to accept the decisions of Schnauzers Rule, as final and binding as it relates to the content. The Sweepstakes is subject to all applicable federal, state and local laws.

By entering you agree to release and hold harmless Schnauzers Rule and its subsidiaries, affiliates, advertising and promotion agencies, partners, representatives, agents, successors, assigns, employees, officers and directors from any liability, illness, injury, death, loss, litigation, claim or damage that may occur, directly or indirectly, whether caused by negligence or not, from (i) such entrant's participation in the sweepstakes and/or his/her acceptance, possession, use, or misuse of any prize or any portion thereof, (ii) technical failures of any kind, including but not limited to the malfunctioning of any computer, cable, network, hardware or software; (iii) the unavailability or inaccessibility of any transmissions or telephone or Internet service; (iv) unauthorized human intervention in any part of the entry process or the Promotion; (v) electronic or human error which may occur in the administration of the Promotion or the processing of entries.