Beautiful dog, rescued from a (not-so-great) breeder
by Jennifer
(Reno, NV)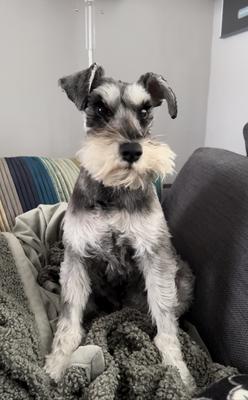 Rocky
Rocky was rescued from a hoarding/breeding home. He had been kept in a crate most of his life and was pretty scared of most people--especially women. He definitely had some trust issues but we noticed that if friends came over with their dog, he was then more comfortable with the humans. Although hesitant, Rocky was such a love bug from the start if we let him come to us and he and my husband formed a close bond quickly.

It took some time to potty train him (only 1 accident in the home!) and to get him used to a collar and leash walks but he is very smart and learned quickly--much more so than a puppy would have! Since we were taking him out twice per day while potty training, we have kept up that routine of two walks per day (one long and one short) which has been beneficial for our health too! We cannot resist this cute face when he is staring us down because it is about time for his walk.

With a lot of love and patience, Rocky has become the most loving, gentle, devoted dog. He isn't as afraid of strangers any more and brings us so much joy every single day. Rocky enjoys walks, playtime, watching out our front window and napping in the sun puddles on our bed. This is our second rescue miniature schnauzer and we could not be happier with adoption.