A little angel sent from heaven
by Maria
(Wantagh NY)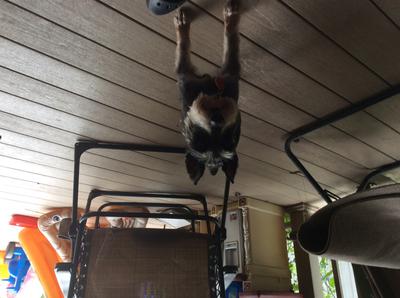 Enjoying some time on the deck
My beloved little mini Ziti, was a puppy mill rescue from North Shore Animal League in NY. I had lost my dad unexpectedly and was very down in the dumps. I already owned a beautiful old English sheepdog that I had purchased from a breeder. My daughter and I went to the shelter where she was in the cage with another small dog. We picked her. They said she was between 3-5 years old.

It was very challenging at the beginning. I don't think she had been outside of a cage. I would place her on the grass and she wouldn't move. She didn't like to be held. She would become stiff as a board. She got better over time. She had a lot of pep. She hardly barked. And she is good with all dogs and people. She wouldn't hurt a fly.

She was with us for 10 years, I think that was pretty good considering how she lived the first several years of her life. She died in my arms almost 2 years ago. I am finally ready to have a new mini in my life. I was trying to find something like her in the shelters but having no luck.. I found a breeder a few hours away and I'll be bringing home a new little girl to be loved, cherished and spoiled. Happy holidays ,!