2010 Miniature Schnauzer Photo Contest
February Schnauzer Contest is now Closed.
This Month's winner....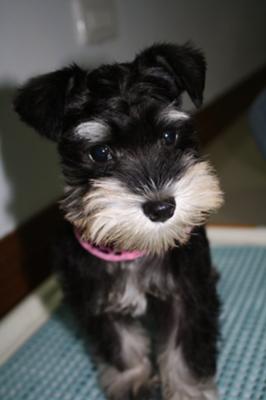 A big thank you to all our contestants for sharing such wonderful photos of your Miniature Schnauzer with us. Judges always have such a difficult task in choosing just one winning photo from so many cuties!
Click here to find out all the details on how you can enter your Miniature Schnauzer in our next Schnauzer of the Month photo contest!
---
Want to See All the Schnauzer Photo Contest Entries
Simply click on any of the links below to see other photo contest entries.

I got Cosmo when it was my birthday. I was turning 12 and went to go look at dogs because I really wanted one. My old dog (my boxer) could not live with ...
ABBY IS A 7 YR. OLD FEMALE MINIATURE SCHNAUZER. A TERRIER BY ALL MEANS. SHE THINKS SHES THE ONLY DOG ON THE BLOCK. ABBY DOES NOT LIKE ANYTHING THAT MOVES....
Mini Schnauzer Harley Davidson
Harley D is a 4 year old mini schnauzer, born on June 5, 2005. His favorite toy is his sisfur Sophie Claire. Harley loves all kinds of food including ...
I am a kindergarten teacher living in Kaohsiung, Taiwan. Zoey is my 3 month old mini schnauzer puppy, who loves to play in the park. Her birthday is November ...
Hello, My name is Cleo. I am a 3 month old female miniature schnauzer. I was born October 27, 2009.
My daddy got me for my mommy for Christmas. I am the ...
Halo is a female Miniature Schnauzer who's pet peeve is someone picking her up when she doesn't want to be.

Birthdate: 12-31-2005
My favorite toy is ...
3 Miniature Schnauzers
CHLOE, CRICKET, AND HOWIE
Chloe is a 6 yr. old female, Cricket is a 9 yr. old female, Howie is a 3 yr. old male. Chloe loves to snuggle, Cricket loves to wrestle on the bed, Howie ...
I'm Pepper, a 9 year old female Miniature Schnauzer. My favorite dog toy is my fluffy gray hippo. And I love playing ball and chewing on my favorite treats,...
Lilly Belle in the snow.

* Sex: Female Miniature Schnauzer
* Birthdate: 9-5-09
* Favorite Toy: My Stufffed Squeaky Snowman
* Favorite ...
I'm 3 years old and a black miniature schnauzer. I'm the "baby" of the family and that is what my mommy calls me for a nickname. I love to play outside ...
My Miniature Schnauzer, Libby was a puppy mill dog and was dying from malnutrition and dehydration when rescued. With a lot of love and patience she blossomed ...
My nephew gave me Sabrina because the Yorkie I had was old and he figured she would be dying soon. Though I got Sabrina in May 2004, my Yorkie did not ...
My Miniature Schnauzer Wickkett is a mommy's boy and never lets me out of his sight. My husband got him from a coworker that couldnt take care of him as ...
---

Go from 2010 Schnauzer Dog Contest to About the Miniature Schnauzer on Schnauzers Rule
Go from 2010 Schnauzer Dog Contest to Dog Contests