Pet Loss Poems

The following list of Pet Loss Poems are meant as beautiful words of encouragement during your time of grief.
Also, please feel free to send a family member or friend who lost a beloved Miniature Schnauzer a free Schnauzer dog sympathy ecard. Let them know you are there for them. Feel free to use quotes from one of the dog loss poems below or from our Words of Sympathy. Let them know you understand their grief so they do not suffer alone, as the pain of losing one's beloved pet is very real.
There is also a Candle Lighting page to light a virtual candle in remembrance of your beloved pet.
List of Pet Loss Poetry - Verses of Inspiration

Comfort for a Friend

I Haven't Left At All

I Only Wanted You

The Creation

Letter From Your Pet in Heaven

Treasured Friend

When Tomorrow Starts Without Me

~ ~ ~ ~ ~ ~ ~

The Last Battle - (The need to Euthanize)



The Rainbow Bridge Poem







Miniature Schnauzer Sympathy eCard
Send family & friends who have lost a beloved companion a free pet sympathy Ecard and let them know you care.

If you don't know exactly what to write or are having trouble expressing your thoughts, read through our words of sympathy and encouragement for assistance. (links above)


Light a Candle in remembrance of your Miniature Schnauzer: In many different traditions the lighting of a candle is considered a sacred action. A way to pay tribute and remembrance to a dear friend.
note: The 'Light a Candle' link is not part of Schnauzers-Rule.com. It is however, a wonderful site that allows you to light a virtual candle for free. Candles lit on this page are for those who have lost a Miniature Schnauzer and clicked on this link from Schnauzers-Rule.com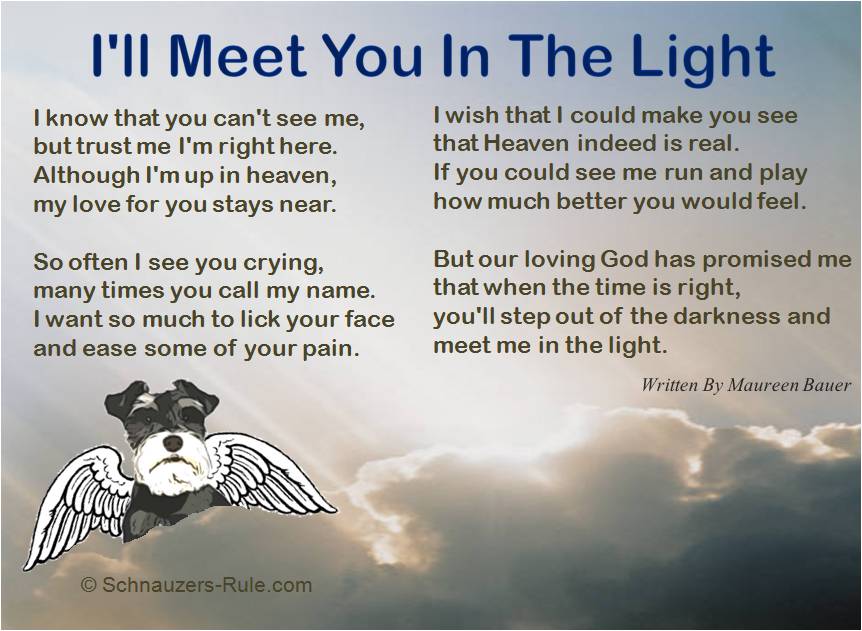 I'll Meet You In the Light

I know that you can't see me, but trust me I'm right here.
Although I'm up in heaven, my love for you stays near.

So often I see you crying, many times you call my name.
I want so much to lick your face and ease some of your pain.

I wish that I could make you see that Heaven indeed is real.
If you could see me run and play, how much better you would feel.

But our loving God has promised me that when the time is right,
You'll step out of the darkness and meet me in the light.

Written by Maureen Bauer
In loving Memory of D'Arcy

Search Schnauzers-Rule.com
Custom Search
---
Go from Pet loss Poems to About the Miniature Schnauzer on Schnauzers Rule
Go from Pet loss Poems to Pet Loss
Related Topics:
★ Man's Best Friend, a Tribute to a Dog
★ Blessing of the Animals
★ Schnauzer Angel Ecard