Yorkshire Terrier Abigale June
by Dolores Lawson
(Ocala, Florida )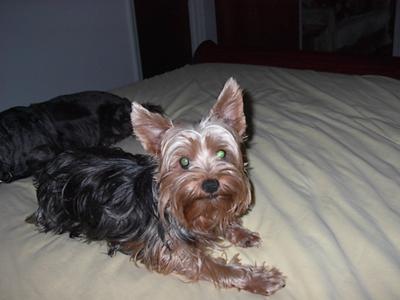 Abigale June with her ears up on the bed
Hi my name is Abigale June and I was born right here in Ocala, Florida that is why my mom gave me a southern name. I was born on April 17, 2006. I came here because mommy lost her precious Yorkshire name Tiffany on June 10, 2006 who she had for almost 16 years. Mommy was missing her so much that she decided she was going to get another Yorkie not to take Tiffany's place as no dog could ever do that.

So on June 23, mommy went to the flea market where they used to have Yorkies all the time but that day there were none and then she was going to go to the pet store where a fellow employee got their Yorkie but it wasn't open yet then she read in the newspaper and ad stating NEW she called the people up and they still had me she drove over paid for me and took me home.

Now their dog Sabrina a Schnauzer was there to meet me and she was drinking water on the back porch stoop and she was 17 pounds and I was only four pounds and was watching her by the gazebo then took off running and knocked her off the stoop she looked bewildered but did not do anything so from then on I knew I was the boss of this house.

I am a climber I push the roller chairs away from the dining room table and almost get a hold of cookies mommy has cooling and daddy ruins it for me by telling mommy to come quick and she grabbed me in the knick of time. I am known as the snake killer as I have caught two black snakes each about 3 feet long and shake them and with biting them in the neck they do not survive.

One time mommy was on the computer chatting with dogster members and I pushed one of her roll away chairs behind her and took my paw and tapped her on the shoulder and she thought it was daddy turned out and it was me.

I hate being groomed and getting bathed and having my teeth brushed. I love my sister Sabrina. Though I am a girl I act more like a tomboy. I love Milk Bone Biscuits and I do a dance to get them.