What a Schnauzer Dog can Teach You about Interior Design
by Charlene Ara Gonzales
(Melbourne, Australia)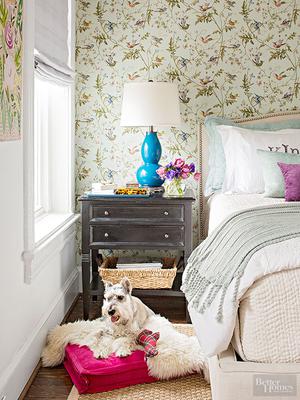 One of my designer friends owns two schnauzers—one miniature and one standard—and they rock. They're cute as a button and super sweet!

The best part? I think this friend of mine gets some design inspiration from her bearded buddies.

It's not impossible. These creatures are bold, fearless, and charming. Keep a schnauzer in mind and you can rock at interior design. Here's how:

1. Always play with scale

The size of schnauzers ranges from giant, standard, to miniature. At home, we always deal with items and furniture of different sizes. It's important to juxtapose bigger pieces of furniture with tinier ones to balance your decor. When you have a big sofa, adorn it with throw pillows!

2. Strive for balance

My friend is a busy designer. She loves her first schnauzer so much but she can't be there all the time to play with the dog. So, she adopted another one and the two dogs run and romp cheerfully at home. In life and in design, you have to strive for balance. By that, it doesn't have to be symmetrical all the time. She got a standard and a miniature schnauzer—different but harmonious together. This is asymmetry and you should try it too.

3. Go for neutral

Schnauzers are generally of salt and pepper colour. Being black or white, they fit anywhere! In design, going for a neutral palette is a safe move. However, when you learn how to play the contrasts of black and white, this simple design move leaves a huge impact.

4. Use brown for warmth

Of course, I've seen brown schnauzers too. They look warm and sweet—I want to snuggle with them for hours. With that in mind, you can use brown or a natural brown colour palette to pull off rich and cosy interiors.

5. Go with looks that are easy on the eye

Unlike other dogs, Schnauzers don't have crazy spots on their bodies. It's either they're plain white, black, brown or a mixture of two colours. Whatever their look is, it's always pleasing to the eye. Adopt this in your home design when you're opting for timeless interiors.

6. Hypoallergenic home

Schnauzers are hypoallergenic dogs. They don't shed their fur much unlike other hairy dog breeds. Remember this when buying carpets, rugs, or other fabrics you're going to use at home. Avoid buying a one which can hold tonnes of dirt and dust on it.

7. Always have a focal point

If you have minis, you'll know how much they love to be the centre of attention. When you're decorating a room, there has to be something in there that catches your attention. It's what designers call a focal point. It could be a fireplace, wall, sofa, window, lamp, and so on. One is enough to start a conversation.

At the end of the day, you can use the little things that you love as an inspiration to build your home. It's your personal space. You can get a little inspiration from your furry four-legged friends. It will not just make your interiors meaningful, it will strengthen the bond between you and your pet.


Author Bio: Charlene Ara Gonzales is a design writer in Superdraft Pty. Ltd.'s team of Melbourne Architects
(www.superdraft.com.au/melbourne-architectural-services). They're leading the way in architectural services, particular in sustainable, human-centered, and pet-friendly home designs.