Website Award
Do you have a Top Dog, Top Cat, or Top Pet Website?

How would you like a website award badge to showcase on your site? Not just any merit badge, but one that recognizes how hard you've worked to create a content rich web site that provides your visitors and followers excellent information, nice design and presentation, as well as one that promotes responsible pet ownership. If  that sounds like your site or blog, you will want to apply for one of our top 3 awards. Here's how...

---
How to Nominate a Website for an Award

Place the Nominee Badge of your choice onto your website. You have 2 choices:
To get this badge: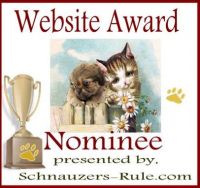 Copy and Paste the code below onto your Website:

---
Or if you prefer this badge, which explains a bit more about your nomination...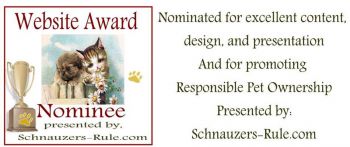 Copy and Paste this code onto your website:

---
Once you've placed the Nominee Badge of your choice onto your website, come back here and fill out the Award Nomination form below with all the requested information. Be sure to include the url or the page web address that displays the nominee badge for verification.
If your website is approved for an award (depending on the category you submitted for) you will receive one of the following top pet  award badges for your website:
Top Pet Award Badge - Sample

Top Dog Award Badge - Sample
Top Cat Award Badge - Sample
---
Finding an audience: You won't see our badges on every pet-related site or blog as we evaluate each submission carefully. So how can you better you chances... Provide your visitors with valuable content and broaden your brand. In return, your readers will begin to trust your site as the "go-to site for..." They will become repeat visitors and tell their friends about your site. And very soon, your website will be reaching a much larger audience.
What to write about: There are tons of different topics that pet owners seek daily. They want information on how to care for their pet, health issues, training, and more. But not all your content must be serious. This is especially true with pet sites. Your visitors will enjoy reading funny pet tales and viewing pet pictures and videos. So be sure to include light-hearted content as well, to keep them engaged.
If you feel your web site is doing just that and you are continuing to provide valuable, unique content to ensure your visitors have a great experience on the internet, then fill out the form below and request a site review for one of our pet award badges.
---
Go from Website Award to About the Miniature Schnauzer on Schnauzers Rule